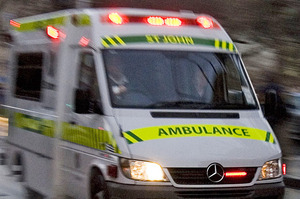 Two Wanganui women have made formal complaints to St John Ambulance after an elderly woman was left lying on the pavement at the Gonville Shopping centre for almost an hour after she fell over.
However, St John Ambulance operations manager Jimmy Seville said the April 11 incident was disappointing, but a surge in calls meant the organisation's two ambulances were busy at other jobs.
One of the complainants, Jodi Munden, said she didn't see the woman, in her 80s, fall but understood she had slipped and hurt herself.
The woman remained lying on the pavement for the next 50 minutes or so with her husband at her side, Ms Munden said.
She said she put in a complaint about how long the woman had to wait because "it's not good enough".
As a caregiver, she had some medical training and was concerned about the effect stress and shock could have on the pair.
A nurse from the Gonville Medical Centre checked on the woman but didn't take her blood pressure, she said.
Ms Munden cycled to the ambulance centre, saw other ambulances in the garage and couldn't understand why they weren't being used.
She was told a number of calls had come in at the same time.
Mr Seville said the woman was assessed by the emergency communications call-taker, and it was from there they got their instructions.
If the situation had been life-threatening, something would have been done, he said. In this case, the woman had a sprained ankle.
On the day in question, one of their ambulances was attending a fatal forestry accident on Tokomaru West Rd and a surge in calls meant the second ambulance attended about six call-outs during the period the woman at Gonville was waiting.
- APN