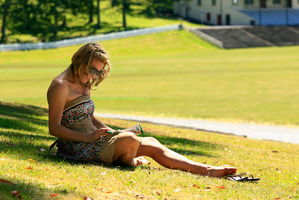 After a summer of lousy weather, New Zealand is set to enjoy yet another weekend of warm autumn weather.
A large high sits above the country and is expected to drift slowly eastwards over the next few days, bringing fine weather to most of the country.
MetService spokesman Daniel Corbett said the fine weather will continue through the weekend, and even well into next week.
"This is a big, big high. If you look at the pressure - it is almost to the point where you want to put your fingers in your ears. It's almost like a big stubborn ox, it is slow to move."
Mr Corbett said parts of Northland, Auckland, and the Bay of Plenty could expect temperatures around 20 degrees Celsius this weekend, while Hamilton will see about 19 degrees Celsius, temperatures in Wellington will get to about 16 degrees Celsius, and inland parts of the South Island should get around 17 degrees Celsius.
However overnight temperatures will continue to dip.
Towns such as Queenstown have seen the mercury drop down to 1 or 2 degrees Celsius on recent mornings, despite climbing to 18 degrees Celsius during the day.
"With highs you do get areas of clear skies and light winds. Clear skies allow the warmth of the day to radiate out into space, as opposed to when you've got a layer of cloud. Inland areas like Queenstown and the Central Plateau, they'll get quite chilly tonight.
"But there is some decent looking weather by day in most places."
Mr Corbett said fans at the V8 Supercars in Hamilton will enjoy "perfect weather" for motor racing.
"They've had a little bit of cloud there this morning, but that's cleared up nicely through the morning. They'll top out at 19 degrees Celsius today and then tomorrow as well."
The fine weather in Hamilton will continue through to Sunday for the main event in the weekend's action, the ITM 400, which starts at 3.05pm.