Dionne Christian finds activities for all ages in Pirongia and its surrounds.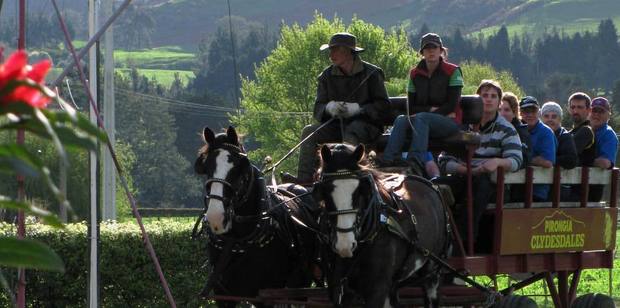 You know you've had a good weekend away when you return home and start organising your next trip back pretty much as soon as you've finished unpacking, which is exactly what happened following the family's latest trip to Pirongia.
Earlier in the year, we visited the town, in the Waipa district of Waikato, to check out its vibrant arts and crafts market. We were so charmed we made the one-an-a half-hour journey from south Auckland twice in two months.
But it kind of felt like cheating because we didn't venture into the 17,000-hectare Pirongia Forest Park, home to four separate land areas (the Mangakino Block, Te Rauamoa Block, Te Maunga O Karioi Block and Pirongia) plus Mt Pirongia which is the highest mountain in the Waikato. So I decided there was no better way to kick off the spring/summer exercise programme than returning to Pirongia and going for a good walk in the park.
So we were back, in part to explore some of the forest park's easier and family friendly tracks and also to visit the town's annual arts and craft market which sees the main road closed to traffic and many stallholders selling high-quality handcrafted goods.
The first stop was the Pirongia Clydesdales Centre, owned and run by Nick and Jill van der Sande who have more than 30 years experience working with and driving these magnificent carriage horses. They also offer a unique farm-stay bed and breakfast experience and we stayed for the night. Once the family was settled in - and visiting the many animals that live here - I met Clare St Pierre of the Pirongia Te Aroaro o Kahu Restoration Society.
The society is one of a number of local conservation groups who have worked tirelessly alongside district councils and the Department of Conservation to restore the forest park to a healthy living forest full of native flora and fauna.
As part of that work, a number of tramping tracks and walks, to suit most levels of fitness and bush craft experience, have been established. Clare and I drove out of the village and up to the Mangakara Nature Walk track. I'd been worried this might have been too much for my girls, aged 7 and 3, and their grandmother so hadn't brought them along. This was a mistake because it was an easy one-hour return walk on a well-formed track which was flat, apart from one short steep section as it drops down to the stream.
In April, the society released 29 pitoitoi or North Island robins and there are plans to release more robins next year. Though we could hear numerous different types of birds, possibly some robins, they stuck mainly to the forest canopy. We did see tui, one kereru or New Zealand pigeon, and fantails. The benefits of having a personal guide involve hearing firsthand about the flora rather than just walking past trees, ferns and shrubs and wondering "what's that?" As the largest area of native forest in the Waikato, the park is located at a crossroads of sorts and is the place where a number of plants reach their northern or southern distribution limits. The bush is stunning, peaceful and thoroughly relaxing.
I rendezvoused with the family for lunch at the always excellent Persimmon Tree Cafe before a treat kindly arranged by the van der Sande family: a ride through Pirongia Village in a carriage drawn by Mark and Glen, two Clydesdale horses. The horse-mad children were in seventh heaven. Nick provided an informative commentary on the village's historical landmarks and, at times, rugged history as a town of the frontier during the New Zealand Land Wars.
The Pirongia Clydesdales themselves have a lively history. They started out as the DB Draught Clydesdales in 1985, travelling all over New Zealand to promote the beer with a crafted brewery wagon. After 14 years, DB retired the horses, so Nick and Jill moved the team to their farm. As well as offering carriage rides, the property features a character-filled function centre and has a working horse museum.
For the second walk of the weekend, I met Maxine Fraser, of the Te Pahu Landcare Group. Around 6km from Pirongia, Te Pahu is a small but active settlement from which walkers and trampers can also access Pirongia Forest Park. Back in 2002, Maxine's late husband, Tony, helped found the Te Pahu Landcare Group, which has worked to protect and enhance the surrounding environment. Planting alongside the banks of the Kaniwhaniwha Stream - a splendid place for swimming - has been one of its most successful projects.
A flat, well-formed track, now with native flora on each side, runs alongside the stream and forms the beginning of the three-hour return Nikau Walk. Maxine was a lively and knowledgeable guide whose enthusiasm for the environment is infectious. She took me first to the Nikau Walk campsite, about an hour along the track, which has toilets plus access to fresh water.
A further 10 minutes of walking deeper into the forest, brought us to the two small Kaniwhaniwha Caves. It's a short walk through the main cave followed by a "crawl" and ladder climb at the end: this would be perfect for families with older children. A further 90 minutes' walk away is the country's tallest known kahikatea, an impressive 66.5 metres.
It was a perfect spring day in a bush paradise and it was then I decided to plan a road trip for some girlfriends.
I'm thinking the Tahuanui Track, off the campsite at the end of the Nikau Walk. Part of the Te Araroa Trail (the walking trail from Cape Reinga to Bluff), it is a steady 3-5 hour climb to the summit of Mt Pirongia. Overnight circuits involve a stay at Pahautea Hut; it looked very tempting idea for a summer trip.
NEED TO KNOW
Pirongia Clydesdales: 1375 McClure St. Ph (07) 871 9711.
Pirongia Visitors' Centre: 798 Franklin St. Ph (07) 871-9018. Open Friday-Sunday and Wednesdays.
Persimmon Tree Cafe: 1050 Franklin St. Ph (07) 871-9288.
See doc.govt.nz/parks-and-recreation (click to the Waikato pages) for information about recreational activities in Pirongia Forest Park, permits and hut tickets. Though I went with a guide, the walks I did are easy and suitable for most ages and fitness levels. Longer tracks will require average fitness, skill and bush experience.
Dionne Christian was a guest of Tourism Hamilton and Waikato