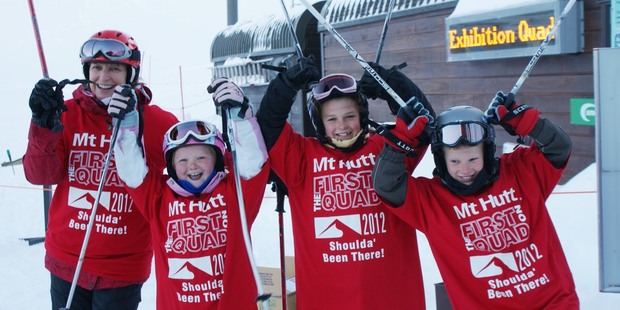 Skiers will be praying for snow at Mt Ruapehu this week amid fears the Turoa ski area may not be able to open on Saturday as scheduled.
While the South Island froze last week, little snow dropped on to Mt Ruapehu.
Yesterday there were mostly bare rocks on the slopes that were scheduled to open next weekend.
The Mt Ruapehu website reported there was zero snow coverage at Turoa and the same at the Whakapapa ski area which was set to open a week later on June 23. The 50cm which blanketed the South Island last week continued to thaw yesterday but the reprieve could be short.
Canterbury would enjoy fine weather this weekend but a cold snap was expected to bring the region's temperatures into single digits this week.
"It's going to be darn cold," said MetService meteorologist Daniel Corbett.
"Everything's on the menu" for the next few months and there was the chance of more snow storms and icy weather, he said.
The National Institute of Water and Atmospheric Research (Niwa) has forecast "near normal" weather for the next three months.
For almost every region in New Zealand, Niwa was predicting a 50 per cent chance of average winter temperatures and a 40 per cent chance of average rainfall.
Niwa's autumn review reported record sunshine across much of the South Island and western North Island.
Of the six main centres in autumn, Auckland was the warmest, Tauranga the sunniest, Wellington the wettest and cloudiest, and Christchurch the coolest and driest.
However, WeatherWatch analyst Philip Duncan has an icier prediction. He said the weekend's fine weather would be short-lived and he anticipated two cold snaps this week.
Duncan predicted New Zealand was six times more likely this winter to have a nation-wide polar blast similar to the one which brought snow to Auckland last year.
"There's still a 70 per cent chance we're not going to get a repeat of last August. We need quite a few things to fall into place ... [but] we've got all the right ingredients to have another nationwide polar blast."
This weekend's "drier and sunnier" weather was a small blessing as winter started to set in, Duncan said.
Wellington's infamous wind was blamed for blowing a pedestrian into the harbour yesterday morning. A cafe worker pulled him from the water and he was taken to hospital for observation.
A drier-than-normal autumn was welcomed by farmers across New Zealand after a soggy start to the year.
Ian Mackenzie, the grain and seeds chairperson for Federated Farmers, said the "lovely, dry, mild autumn has set us up nicely for winter".
Last week's snowstorm did little to frustrate farmers, except those who lost electricity, Mackenzie said.

- APNZ