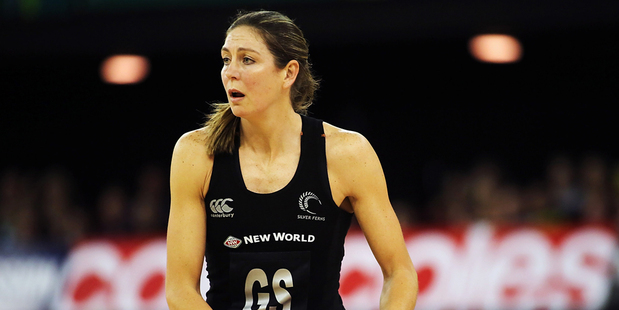 Silver Ferns coach Waimarama Taumaunu says Irene van Dyk's shock decision to step down from the international game was entirely of the star shooter's own choosing.
Van Dyk, who turns 42 this month, today announced she was retiring from international netball after informing Silver Ferns management she no longer felt she was performing to her absolute best.
The former South African international, who made her debut for New Zealand in 2001, has had a quiet transtasman league season with the Pulse, and particularly struggled over the latter part of the season, with the veteran benched at halftime in the team's final two outings.
Photos: Irene van Dyk through the years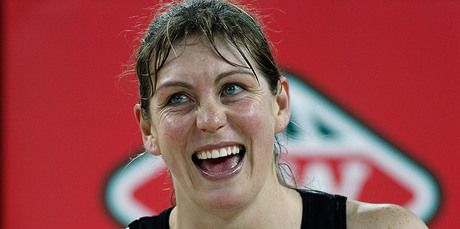 The announcement comes just five days out from when Taumaunu was due to name her team for the Glasgow tournament, leading some to suggest the New Zealand selectors may have tapped van Dyk on the shoulder and hinted it was time. But Taumaunu said she was caught completely off guard when an emotional van Dyk yesterday informed the national coach of her decision.
"This is her decision," Taumaunu said emphatically.
"It was a very brave decision. I suspect those last few games in the ANZ may have pushed her towards her decision and I have nothing but admiration and respect for her so there was no trying to talk to her of it. It was more just listening and making sure she was clear about the what and why."
"Playing at the elite level for 20 years is unheard of in the game of netball, Irene is one of the truly greats of the international game"
Taumaunu declined to say whether van Dyk would have been selected in the team for Glasgow had the veteran shooter made herself available.
"It's a moot point now really. I guess we're just fortunate that we decided to wait until after these last few rounds of transtasman clashes before naming the team, so her retirement now changes our deliberations."
Van Dyk, the world's most capped netballer with 217 tests to her name, made the agonising decision in consultation with her family and believes it's the right thing to do at this stage in her career.
"I needed to be true to myself, I have always said I would step down when I felt the timing was right. This year (Commonwealth Games) and next year (Netball World Cup) are the most significant netball events on our calendar, and if I can't be better than the best for the Silver Ferns, then it's my time to finish now," she said.
"I have really high expectations of myself and my match statistics over the past few months in the ANZ Championship are simply not good enough to justify taking my game to the international level."
Van Dyk's declaration comes seven weeks out from the 2014 Glasgow Commonwealth Games, where the Silver Ferns are the reigning gold medallists.
"I have full confidence in Wai and the girls and there's no doubt in my mind they can win the gold medals. The Silver Ferns group has so much amazing talent and I know they will do the job!"
Van Dyk said her career would not have reached the heights it has without the unwavering support of husband Christie and daughter Bianca.
Netball New Zealand chief executive Hilary Poole says van Dyk is an iconic figure not just in New Zealand, but in Netball playing nations around the globe, inspiring a generation.
"Irene van Dyk has not only become a household name in New Zealand but is a leading light internationally, and Netball New Zealand is looking forward to honouring her," said Poole.
Whilst retiring from the international game, van Dyk will not be lost to the Netball court, indicating she is still keen to play in the 2015 ANZ Championship which will now be her focus for the foreseeable future.
***************************************
Van Dyk's international career is second to none, amassing an incredible 217 test caps spanning a 20 year period. She captained her national team earning 72 test caps for South Africa after first being selected in 1994, the highlight - beating New Zealand in the semifinals of the Netball World Championships in Birmingham and going on to claim the silver medal against Australia.
A bold move to New Zealand in 2000 with husband Christie and daughter Bianca started a new chapter for van Dyk, switching allegiances to her adopted country, becoming the most capped Silver Fern of all time with 145 appearances in the black dress.
Van Dyk competed in five Netball World Championships during her career, in 1995 and 1999 for South Africa and 2003, 2007 and 2011 for the Silver Ferns, winning gold in 2003. In that same year, van Dyk won the prestigious Sportswoman of The Year trophy at the Halberg Awards which recognises the best in New Zealand sport.
She has also competed at four Commonwealth Games, in 1998 with South Africa and 2002, 2006 and 2010 for the Silver Ferns. She was in both gold medal winning New Zealand teams to stand atop the podium in Melbourne, 2006 and Delhi, 2010.
Quick Facts:
Irene van Dyk
Position: GS, GA
Height: 190cm
D.O.B: 21 June, 1972
• Most capped international player of all time - 145 test caps (New Zealand) and 72 test caps (South Africa).
• International career spanning 20 years; 1994 - 1999 (South Africa) 2000 - 2014 (New Zealand).
• Has shot 5917 goals in her international Netball career from 6572 attempts for a 90 percent average (both South Africa and New Zealand).
• Has shot 4796 goals for the Silver Ferns from 5288 attempts for a 91 percent shooting average.
• Made her Silver Ferns debut in June 2000 versus Australia in Newcastle, NSW.
• Halberg Award winner - Sportswoman of the Year 2003, Silver Ferns Team of the Year 2003 and 2003 Supreme Award for the Silver Ferns.
• Netball World Championship winner 2003 in Jamaica defeating Australia in the final.
• Van Dyk was selected to lead the New Zealand team in the Opening Ceremony of the 2010 Delhi Commonwealth Games
• In the 2009 Queen's Birthday Honours List, van Dyk was appointed a Member of the New Zealand Order of Merit (MNZM) for her services to Netball.