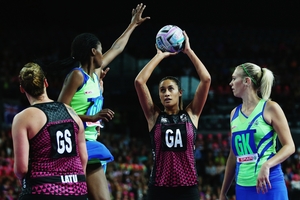 It's almost as if Fast5 was created for Maria Tutaia. Just as Twenty20 cricket was developed for big sloggers, teams that thrive in Fast5 netball have gun long-range shooters.
Unsurprisingly then, with long-bomb queen Tutaia in their arsenal, New Zealand have dominated this weekend's Fast5 World Series at Vector Arena, taking the No 1 ranking into today's finals after cruising through the round robin unbeaten.
The sole team to challenge them was England. With just one win from five outings, England have struggled but they lost by only four against the Ferns in last night's final game.
In five round robin match-ups, Tutaia racked up 19 'supershots' from the three-point zone, many during her team's power play quarter, in which their score is doubled. The next best supershooter was South Africa's Chrisna Bootha with eight.
Tutaia was in particularly stunning form in her second game yesterday, helping the Ferns amass a Fast5 record 58 points, nailing six supershots as they thumped South Africa.
It followed an impressive 48-18 win over Malawi in yesterday's early game. After earning a second player of the match award against South Africa, Tutaia was quick to deflect praise on to her team-mates.
"We're lucky we have three great shooters," she said. "You can be up by 20 goals without the opposition using their power play and it can all turn around. So you never want to get ahead of yourself."
But South African defender Vanes-Mari du Toit believes Tutaia is "in a completely different class".
"As a defender, you try to adjust the way that you stretch to vary it ... but she doesn't even see you, she just sees net," she said.
The big talk of the second day was South Africa downing Australia by one point and Malawi's three-point win over the struggling English.
As Mwai Kumwenda landed the winning goal, the team collectively collapsed to the floor and rolled around, celebrating wildly their first win. The two sides meet again today in the play-off for fifth after England missed the finals for the first time.
Jamaica have been typically unpredictable this weekend but showed they are contenders with a 36-30 win over England and a draw against Australia.
Their shock ploy to play one of the world's most dominant shooters, Romelda Aiken, at goal keep has been used to good effect, with the 1.96m frame of Aiken causing the shooters all sorts of problems. Aiken has revealed it could be more than just a temporary tactic.
With Jamaica also boasting 1.98m Southern Steel shooter Jhaniele Fowler, the Sunshine Girls have an abundance of talent in the shooting end. They've experimented with the 'twin towers' on attack with limited success, meaning Aiken may be forced to relocate to the other end of the court at international level.
"We have very short defenders and I think our coach wants to work on something new for Jamaican netball. It's funny because my first position was goal keep, so it's good to go back in there," said Aiken.