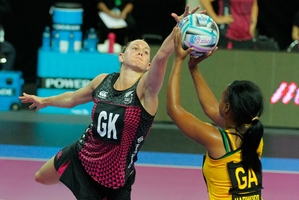 Casey Kopua has been waiting a long time to get a taste of Fast5 netball.
So it's not surprising the New Zealand captain made a big impact in her first outing in the revised shortened version of the game last night, leading her side to a 43-22 win over Jamaica in their opening match of the Fast5 World Series at Vector Arena in Auckland last night.
Typically at this time of year Kopua is being rested, with on-going knee and ankle injuries requiring careful management. But the athletic defender was deemed to be in good enough nick this year to take part in the physically demanding three-day tournament.
A fierce competitor, Kopua relished the fast and furious nature of the 24-minute match.
"It's really exciting," she said beaming. "I've never played in a competitive [Fast5] match - it was very fast, very intense and you've got to be alert the whole time."
The Ferns' convincing win over Jamaica - one of the danger teams of the tournament - was one of the stand-out performances on day one, as the defending champions underlined their favourites status.
The Kiwi side made their move in their powerplay quarter, outscoring the Sunshine Girls 20-3 for the period, with long-bomb specialist Maria Tutaia asserting herself in the quarter with two supershots, which carry six points during the powerplay spell. Tutaia was impressive from long range all night, landing four of her five shots from outside the circle.
Strong defensive work in the circle from Kopua and Katrina Grant ensured the shooting end were delivered plenty of ball.
Jamaica had earlier made a strong start to the tournament, outclassing South Africa 35-28 in the opening game. The Sunshine Girls had the handy advantage of being able to interchange 1.96m Queensland Firebirds star Romelda Aiken with the 1.98m Southern Steel shooter Jhanielle Fowler, who was named most valuable player in this year's ANZ Championship, and the South African defenders struggled with the massive height disadvantage.
Winless last year, Australia recorded their first Fast5 victory in their opening clash last night, thumping England 40-19, before going on to topple Malawi 42-37 in their second outing.
The Australian Flyers were particularly impressive against the English, who have been traditionally strong in the shortened form of the game, narrowly going down to the Ferns in last year's final.
England defender Stacey Francis was extremely disappointed with the rookie errors her side made.
"If we came out and we played our dream netball on the first game, it sets up a feeling of confidence from the start and that's what we were aiming to achieve," she said.
The English were out to redeem themselves against South Africa in their later match last night, while the only two unbeaten teams of the tournament - New Zealand and Australia - were due to face off in the final match of the evening.