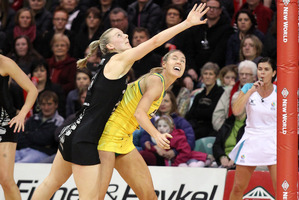 Silver Ferns coach Waimarama Taumaunu has a reputation as a tough task master and skipped the opportunity to issue an unqualified passmark following her side's 55-51 win against Australia in the opening game of the Constellation Cup in Invercargill last night.
There is work to do, she insisted. The Silver Ferns let an 11-goal lead slip and the problem position at wing attack is far from sorted.
But there were a lot more positives to emerge from the game.
Wing defence Joline Henry was outstanding in her international comeback.
Laura Langman controlled the tempo in the midcourt and was named player of the match for her tireless efforts, and Maria Tutaia shot with admirable accuracy from deep in the circle.
''It was a good start but, you know, it is a five-game series,''
Taumaunu said.
''It is good to get the first one under the belt but that is all it is.''
''I think we've got some work to improve that area,'' she said referring to the midcourt, ''But, in this team, people around them step up''.
That they did.
The opening exchanges were fairly even. It was not until midway through the quarter, when the visitors made consecutive turnovers, that the Silver Ferns were able to build a buffer.
They led 19-14 at the break with Joline Henry, playing her first international in two years after taking a season off to start a family, perhaps the hungriest player on court. She stuck to her defensive assignments with unwavering commitment.
With Tutaia dropping in long shots and a mounting penalty count, Australian coach Lisa Alexander was forced into making some changes.
Rebecca Bulley made way for Bianca Chatfield at goal defence, and speedy centre Kimberley Ravaillion was also injected into the match.
''When you've got a player, I guess, targeted for some penalties ... we have to make a change,'' Alexander said.
''Bec Bulley, in that first quarter, I think had 10 penalties on her and we just can't have that. We've spoken about the discipline we need and the positioning we need to have.''
Asked if some of the penalties were unfair she responded; ''Definitely not''.
''The penalties were there and we never think it is unfair. What we need to address, is we need to fix what we are doing according to the umpires' interpretations. We have to clean up what we are doing.''
Australia managed to close the gap through a late run and trailed 31-29 at halftime.
This time it was Taumaunu who had to do some tinkering.
She did not feel she was getting enough from debutant Courtney Tairi at wing attack and replaced her with Anna Thompson.
Leana de Bruin also replaced Katrina Grant in the goal keep bib and her presence helped spark the defensive effort.
Henry stretched for an intercept and Kopua pulled off a volleyball-style block and gather the ball in during the same motion.
The Silver Ferns posted a telling seven-goal run and led by eight with 15min remaining.
The lead peaked at 11 goals but a capacity crowd of 2700 suddenly went quiet when Australia produced its trademark fourth quarter rally and pruned the deficit.
''I'm always impressed with the way the athletes fight back,'' Alexander said.
''They are a wonderful bunch and I expect nothing less of them and they expect nothing less from each other.
''But at the same time it is terribly frustrating that we didn't put that together for 60min.''
The game slipped away for Australia in that 5min period during the third quarter and Alexander said her side went into its shell.
''It was just indecision and not letting balls go and playing the game plan that we've talked about. As soon as you start to hesitate .. that's when you're going to get yourself into a pickle.''
New Zealand 55 ( Irene van Dyk 27 from 29, Maria Tutaia 28/36)
Australia 51 (Caitlin Bassett 31/31, Erin Bell 15/18, Natalie Medhurst 5/6)
Quarter scores: 1st 19-14, 2nd 31-29, 3rd 45-37