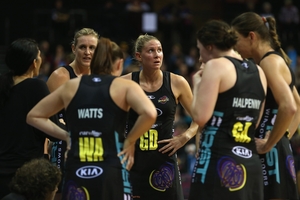 Silver Ferns skipper Casey Kopua looks set to remain with the Waikato Bay of Plenty Magic.
Despite approaches from three other New Zealand franchises, including an "extremely strong bid" from the Mystics, Kopua is unlikely to follow Laura Langman and Irene van Dyk out the exit at the Magic.
There might still be time for a last minute change of heart and nothing has been finalised but the Herald on Sunday understands the 28-year-old is "very close" to signing for 2014.
Fellow Ferns defender Leana de Bruin also looks likely to stay with the franchise, who have won more matches than any other ANZ Championship side but face an uncertain future following the departure of Langman, van Dyk and long-time coach Noeline Taurua.
The news will come as a relief for Magic supporters. Kopua is seen as crucial to their ongoing stability - she is the bedrock upon which a team in transition can be rebuilt.
If Kopua left it would also be a disaster commercially for the Magic. The foundation Magic player attracts sponsors and financial backers, many of whom would think twice if she left for another team.
Kopua has attracted regular interest from other franchises over past seasons but it has peaked this year, with the perceived uncertainty around the Magic environment.
The Mystics made a strong bid and have had several conversations with Kopua and her representatives. If she was to move to Auckland to combine with Anna Harrison, it would elevate the Mystics to a new level, especially at the defensive end of the court.
Meanwhile, the Auckland franchise are believed to have secured the signature of Bailey Mes and remain hopeful of re-signing fellow Silver Fern attacker Cathrine Latu, despite interest from other franchises, including the Magic.
Filling the goal shoot vacancy is a crucial step for the Magic, especially as the rest of their attacking mix is relatively inexperienced. As well as Latu and Catherine Cox, Australian Caitlin Thwaites has emerged as a contender to replace van Dyk. The 26-year-old remains a Diamonds squad member and has proved to be a solid performer at ANZ Championship level, maintaining a consistent record for the Pulse even when her team was struggling (especially before the last two seasons).