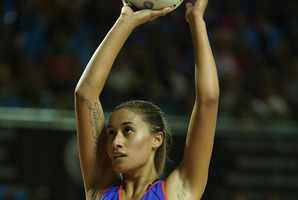 They are not quite on notice but Silver Ferns coach Wai Taumaunu expects her international players in the ailing Mystics to come to the fore in coming weeks.
The struggling Auckland side have lost their first four matches and are conceding an average of 73 goals per match, by some margin the worst defensive record in the ANZ Championship. They are sitting on a franchise-worst six-game losing streak and won't be favourites to break that run today against the Pulse, who are enjoying the best start to a season in their history.
While injuries have affected them, the Mystics still boast international stars Maria Tutaia, Kayla Cullen and Cathrine Latu, as well as former Silver Fern Grace Rasmussen.
"It's early days and it will be interesting to see how they bounce back and how they respond because the test of a real Silver Fern is how they come back from disappointment." Taumaunu told the Herald on Sunday.
"Certainly there are players [at the Mystics] that will be looking within themselves and need to make some statements in the next little while. The selectors and I will be looking for them to show some resilience and stand up to the challenge."
The debate over form at provincial level versus previous international deeds transcends many sports. In rugby league, there have been countless examples of players picked from reserve grade and performing wonders for the Kiwis.
In rugby, Graham Henry and more recently Steve Hansen have selected players for the All Blacks off the back of ordinary, even mediocre (think Piri Weepu and Ali Williams last year) Super Rugby seasons, content that the national environment can drag players back to their best.
But rugby is a different beast, with 15 players on the field and substitusions in the last quarter of a match which offer a way for players to regain form. Netball, with just seven players on the court, offers no place to hide for some- one still regaining confidence and form - and substitutions tend to be the exception rather than the rule.
It's not a new debate. Before the Magic triumph last year, New Zealand sides in the ANZ Championship had always been overshadowed by their Australian counterparts in the competition. Top players usually came together well in the Ferns but it's hard to recall a New Zealand ANZ Championship side with so many top Ferns in such a malaise.
"I am going to be interested to see how those players in that group track forward because sometimes a dose of adversity is not a bad thing to develop you as a person and in the long term as a player," says Taumaunu. "All of our off-court indicators [conditioning, sports science] are good, which indicate they are working hard.
"On court, as a team, they have got some issues and I am interested to see how they walk through them. In the long term and whether this is impacting on their selection chances, that's why we have trials now. People will come on to a level playing field and we will see them against each other."
The Pulse have never beaten the Mystics in 10 previous encounters (both matches in 2012 were four-goal losses) but have their best chance today, as Joline Henry returns to face her former team-mates. They are one of only two teams with a cumulative shooting percentage over 90 per cent and are conceding on average 20 goals per game less than the Mystics.