Role of whistleblowers is under intense scrutiny, and support and training is being found wanting.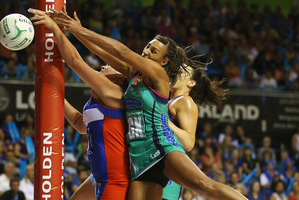 As netball enters a new era of professionalism - and professional fouls - there are concerns umpires are in danger of being left behind.
With netball's "Filth on the Floor" scandal dominating headlines this week and creating fierce public debate, the role of the umpires has come under intense scrutiny.
Since the introduction of the transtasman league, the game has evolved rapidly - the athletes are fitter, faster and stronger than ever before and the competition fierce week-in, week-out.
There is growing unrest that the physicality in the game is getting out of hand, with many pointing the blame squarely at the umpires for allowing teams to use excessive force. But many have countered it is unfair to single out the umpires when they haven't been given the same level of professional support to keep pace with the changing face of the game.
Former Silver Ferns coach Yvonne Willering believes just as huge resources are piled into the players' training and development, the league needs to ensure that the umpires are equally looked after.
"They need to be far more professional and given the same support and opportunities that the players get," said Willering. "As coaches and players we're saying umpires have to be accountable, but what we've got to understand is that they don't have the same professional structures that the players do."
Kiwi umpires are paid about $500 a game to control an ANZ Championship match, and get help from the national body with their training and strength and conditioning.
Netball New Zealand chief executive Raelene Castle said the ANZ Championship board was acutely aware of the need to invest more in umpires' learning, growth and development. She said the league was reviewing the support systems in place around the officials.
Netball New Zealand has its own umpiring panel that is responsible for reviewing the officials' performances, and act as a conduit should teams seek clarification or feedback. A similar system operates in Australia.
But so long as the two panels operate in isolation, the inconsistencies in rule interpretations - a key source of frustration among the players and coaches - will continue to exist.
"What we've done is try and get those two panels together to try and get some consistency in rule interpretation, that's happening both at ANZ Championship level, but it's also happening at the international level as well," said Castle.
Concerns over the lack of training and development opportunities for umpires have been exacerbated on this side of the Tasman with two of New Zealand's top umpires stepping aside in recent years. Bronwyn Meek, once ranked New Zealand's top whistler, has retired from umpiring, while Mandy Nottingham, who was selected to oversee last year's grand final, is having a temporary break this season. The loss of the pair has diluted New Zealand's umpiring pool, leaving behind a creche of ill-equipped whistlers to cope with the intense transtasman battles.
Castle said just as Netball New Zealand needed to continue to develop depth in its playing ranks, they needed to ensure umpires were being exposed to the top level.
"We need to mix in those younger umpires with the more experienced ones, because when you lose a couple of experienced umpires it does leave a hole ..."
Despite the ferocity of the debate around the increased physicality in the game and pressure coming from many New Zealand netball identities for umpires to crack down on aggressive tactics, ANZ Championship general manager Andy Crook said the league had not issued any directives to the umpires over how they should control the matches.
"I'm sure their umpiring coaches will give them instructions to continue to umpire in the way they traditionally umpire, they will look at each call on a case-by-case basis throughout a game and call it as they see it."
With the competition moving to all-domestic clashes for the next three rounds, the finger-pointing and tension between countries should dissipate.
Plummer pours petrol on fiery debate
A day after the transtasman league issued teams with a blanket warning over making inflammatory public statements, Fever coach Norma Plummer has poured petrol on to the flames of netball's physicality debate.
Having said earlier in the week she would be disappointed if anyone in her team were to speak out against an opposition player in the manner Irene van Dyk did, Plummer then took aim at van Dyk, calling her "sad", and Donna Wilkins, a player she once tried to sign, a whinger before bagging two of her fellow coaches then questioning the integrity of the league.
Plummer claims the 1 round draw system was deliberately put in place to give the Kiwi sides a leg up, and that Australia don't need New Zealand to have a successful competition, overlooking the fact that NZ prop up the league financially.
While Plummer may be happy to go back to a domestic competition with no television coverage, no media exposure, and no commercial revenue, it's unlikely her thoughts would be shared by other Australian netball officials. The ANZ Championship office will be frustrated Plummer has chosen to unleash her tirade just as the debate was beginning to quieten.
It's understood the league will be reviewing the former Australian coach's comments once the coming round is complete.
But given they have already reminded teams of their "obligations" they may have painted themselves into a corner if they don't want to be seen as a toothless organisation.