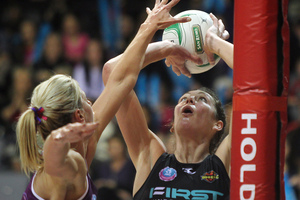 Irene van Dyk is likely to escape with a warning from transtasman league officials after her controversial outburst over the aggressive approach of the West Coast Fever defence.
ANZ Championship management met yesterday to review van Dyk's comments made after the Magic's 57-51 loss in Perth at the weekend, in which she suggested the Fever defence were "dirty" and "got away with murder".
Many have applauded van Dyk - one of New Zealand's most-loved sports stars - for her brutal honesty and having the courage to take a stand over what she saw as overt physicality, in doing so risking her carefully cultivated public image.
But with netball being a conservative institution, frowning upon any hint of controversy, transtasman league officials took a dim view of the 40-year-old's explosive comments which have stirred up plenty of debate over whether the physicality in netball has gone too far.
The league's operations managers yesterday reviewed the tape of the post-match interview and were to make a recommendation to ANZ Championship general manager Andy Crook over whether sanctions should be imposed.
A final decision will be announced today, but it is understood the most likely course of action is that van Dyk will be issued with a warning.
That warning may extend to several franchises, with league bosses disappointed with some of the public criticism that has been levelled at the umpires early on in the season.
Several incidents from the first three rounds of the season were being reviewed yesterday, including some statements made by Pulse shooter Donna Wilkins after her side's round two loss to the Queensland Firebirds, in which she copped an blatant elbow to the back from defender Laura Geitz.
Complaints made by NSW Swifts coach Lisa Beehag and her captain Mo'onia Gerrard over some umpiring decisions made in their heavy loss to the Magic in round two were also being looked at closely.
Ironically Gerrard claimed after Monday night's match against the Pulse that after six seasons in the league, players just need to get on with it and stop whinging about the difference in umpiring interpretations between the two countries.
"I don't know why everyone keeps complaining, everyone knows what the Australian style is, everyone knows what the New Zealand style is," she said.
Crook said despite all the comments made over the umpiring and level of physicality, the ANZ Championship office haven't received any formal complaints from the teams.