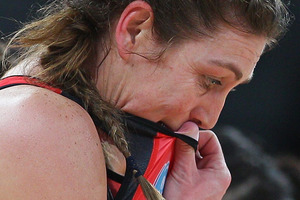 Transtasman league officials will make a decision today over whether Irene van Dyk will face sanctions for her post-match outburst in Perth.
ANZ Championship general manager Andy Crook said the league will be reviewing van Dyk's comments, which have sparked fierce debate over the level of physicality allowed in the competition.
The 40-year-old sharpshooter's controversial remarks came in the wake of the Magic's six-goal loss to West Coast Fever, with van Dyk so incensed at the treatment she was dealt by defenders Eboni Beckford-Chambers and Josie Janz, she hit out at the pair in the post-match interview.
Van Dyk - a veteran of 211 tests for South Africa and New Zealand - claimed the Fever defence was the most physical she had encountered in her lengthy career, and the umpires allowed Beckford-Chambers and Janz to "get away with murder".
Your views: Has netball become too violent?
"There's a fine line between playing with skill and coming out and being dirty and I think they crossed the line."
The league operations managers in both countries will sit down today and review the first three rounds of the competition, with van Dyk's comments likely to be high on the agenda.
Van Dyk isn't the only one who could find herself in trouble - a number of players and coaches are pushing the boundaries with their criticisms over the standard of umpiring in the league.
The review panel is expected to also look closely at comments made in the media from Pulse shooter Donna Wilkins and her coach Robyn Broughton, who were highly critical of the aggressive tactics of Firebirds' defender Laura Geitz, while NSW Swifts coach Lisa Beehag was outspoken about the umpiring in her side's heavy loss to the Magic in round two.
Crook said the panel would make recommendations to the ANZ Championship board over whether any players or teams should be sanctioned.
The league has the power to impose penalties ranging from fines to, at the extreme end of offending, suspensions for players who breach the competition rules.
Previously ANZ Championship officials have taken a soft approach in similar instances, with Mystics star Cathrine Latu and former Steel shooter Daneka Wipiiti escaping with warnings in 2011 after blasting what they believed were inconsistent rulings across the Tasman.
"We'll look at previous cases and make a judgment call on what is appropriate. But at this stage I can't comment either way on whether any action will be taken," said Crook.
Magic coach Noeline Taurua yesterday gave her star shooter her full backing, claiming the level of physicality by the Fever defenders was excessive and bordered on dangerous.
"She's very bruised around her ribs and that just shows the physicality that she was handed," Taurua said.
Jess Waitapu also has heavy bruising.
Read more: Why is netball getting so rough?