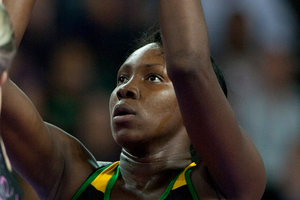 Tactix 56
Steel 75
When the Southern Steel signed Jhaniele Fowler before the start of the ANZ Championship, they hoped the tallest player in the competition could help lift them from depths of the competition.
The Jamaican shooter did exactly that today, picking just her second game to set a new record for most goals in a match as the Steel thumped the Canterbury Tactix in Christchurch.
Fowler made 65 goals from 70 attempts to break the previous mark of 59, held by fellow Jamaicans Carla Borrego and Romelda Aiken, and outscore the Tactix on her own to led her side to their first win of the season.
Having been defeated by the Queensland Firebirds to open the campaign, the Steel were on an 11-match losing run coming into the contest, but the mere presence of Fowler should be enough to earn a few more victories.
The southern side have understandably adapted their game plan to get the ball in Fowler's hands as often as possible, and it will be interesting to see how opposing defences adjust to her height.
The Tactix couldn't cope today, as the 1.98m goal shoot ran rampant in racking up a 93 per cent success rate from under the hoop. The Steel's 75 goals beat their previous highest score of 66 and put to the sword a Tactix side that allowed 69 in last weekend's loss to the Magic.
With just four victories between them, the South Island sides occupied the last two spots on the ladder in 2012. Canterbury look set for another long season but Fowler's unerring accuracy will offer the Steel some hope of a revival.
Incredibly, her personal haul was 11 goals more than the Waikato-Bay of Plenty Magic - the highest scorers and eventual champions - averaged last season.
The Jamaican began today how she intended to continue, shooting perfectly in the opening period to help the southerners to a two-goal lead at the first break. The scores were level at the half before the Steel embarked on a six-goal run without reply to seize control of the match in the third quarter.
Fowler finally missed her first attempt of the contest, but her teammates responded with some rare defensive solidity to restrict Canterbury to 11 goals in the quarter.
That saw the Steel take a commanding 10-goal lead into the final period, leaving Fowler to reach the record goals tally and put the rest of the competition on notice.
Tactix 56 (Harten 29/37, Fenwick 26/33)
Steel 75 (Fowler 65/70, Brown 10/10)
HT: 36-36
- APNZ