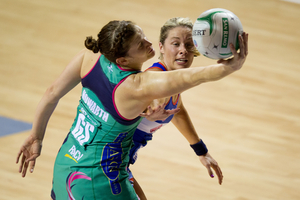 Given the significant setbacks they encountered in the preseason, this year has always promised to be challenging for the Northern Mystics.
The Melbourne Vixens provided a graphic illustration of the steep ascent that lies ahead for the Auckland team, crushing the homeside 60-46 in their opening round clash at Trusts Stadium last night.
For the first three quarters the Mystics' looked a relatively slick and cohesive unit, all things considering.
But the lack of depth in their side was highlighted later in the match, as the Mystics, run ragged by a speedy Vixens line-up, began to tire and there was little in the way of options to turn to on the bench to provide the fresh legs they needed.
Versatile young Mystics star Kayla Cullen impressed in her first game at centre for the side, but found the pace tough going towards the end and was eventually replaced in the final five minutes by rookie Elisapeta Toeava - the sister of former All Black Isaia.
As the home side battled to maintain their intensity over the final 15 minutes, the Vixens seized the advantage, outscoring the Mystics 18-9 in the final quarter to record a dominant win.
Given they were a side in disarray at last month's preseason tournament, there were signs of positive progress for the Mystics last night.
Cullen and Grace Rasmussen were dynamic and creative in the midcourt, providing good ball for Maria Tutaia and Cathrine Latu at the back.
The Mystics through-court defence also looked solid, with their high zone particularly effective in creating turnovers. But their in-circle defensive combination between import Julie Corletto, who last night made her Mystics debut against her former side, and Jess Moulds needing more time together.
Last night's match marked the return of one of Australia's greats, with veteran shooter Sharelle McMahon playing her first match for the Vixens since she hobbled off the court with a torn Achilles in round eight of the 2011 season. McMahon then took last season off to start a family, which in Australia fans seem to equate with retirement.
Her decision to stage comeback following the birth of her son Xavier seven months ago has received huge interest from the Australian media, with McMahon becoming the first player from across the Tasman to return to action after having a baby.
The feisty goal-attack was introduced off the bench at halftime for the Vixens, providing a noticeable spark on attack, but the former Australian captain will likely be disappointed with her error rate.
Melbourne Vixens 60
Northern Mystics 46