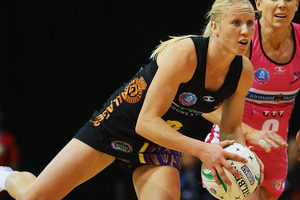 Magic 69
Tactix 46
As far as providing any great insight into how the Magic's title defence is shaping up, last year's wooden spooners were unlikely to offer any definitive answers.
But one thing is for certain, the Magic are two points ahead of where they were at this stage last season following their 23-goal demolition of the Mainland Tactix.
The Magic, who opened their 2012 season with four losses, had a much more convincing start in Nelson last night, with the results of an intense preseason obvious in their slick combinations.
The established defensive pairing of Leana de Bruin and Casey Kopua (nee Williams) were, as you would expect from two frontline Silver Ferns, impressive, while the Magic midcourt, led by captain Laura Langman, seemed to operate at a couple of clips faster than the Tactix.
Up 36-21 at halftime, Magic coach Noeline Taurua had the luxury of being able to trial two different attacking line-ups as she looks to fill the hole left by highly-rated young shooter Julianna Naoupu, who has returned home to Christchurch this season.
The Magic picked up former Tactix shooter Ellen Halpenny in what was effectively a straight swap for Naoupu, however the newcomer had to wait until halftime before she got a crack against her former side. Taurua opted to start with Jess Waitapu and import Khao Watts in her frontline, with Halpenny and Jess Tuki replacing the pair in the third quarter.
While Halpenny (13/17) was slightly more accurate on goal than Waitapu (11/15), she did not look as confident with her court-play and there were times in the third and fourth period when things got a little scrappy. But with the ever-reliable Irene van Dyk at the back to mop up, the Magic weren't punished to severely for their lapses.
Tipped to be the big movers and shakers of this year's transtasman league, the Central Pulse were more erratic than extraordinary in Saturday's opening round.
There were impressive patches for the Pulse - former Silver Fern Liana Leota was outstanding in the midcourt in her competitive return to the sport, while captain Katrina Grant picked off some brilliant ball in the defensive circle. But the Wellington-based side also showed a disappointing lack of concentration and consistency as they slumped to a 49-42 loss to the Thunderbirds in Adelaide.
The Southern Steel also stretched their winless run across the Tasman into its sixth season, going down 68-59 to the Queensland Firebirds in Brisbane, in what effectively became a shoot-out between the two Jamaican imports. The Firebirds' Romelda Aiken converted 47 of her 55 shots at goal, while the Steel's 1.98m shooter Jhaniele Fowler had a 44/48 strike rate in her first ANZ Championship outing.