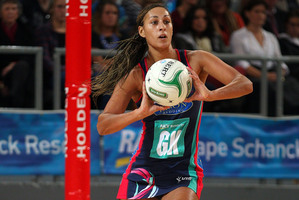 Playing netball for England was always a privilege for star defender Geva Mentor.
The fact that she got to travel and hang out on tour with 11 of her best mates was an added bonus. Considering it was a game that she says chose her, rather than the other way around, Mentor was happy with her sporting lot in life.
Then the opportunity to play in a professional transtasman league came along and her eyes were opened to a new world on and off the court.
Mentor's name was the first to crop up as a potential target for franchises when the idea of imports was raised.
She was excited by the talk and allowed herself to entertain the thought of getting paid to play netball, but the reality didn't really sink in until the Thunderbirds came knocking.
There were more surprises to come.
The athletic defender didn't quite know what had hit her when she arrived in Adelaide to find people on the street knew her name and would stop her to talk about netball.
In England the sport was still viewed as a nice game for schoolgirls, so to suddenly have a public profile was a revelation.
"Because Adelaide is such a small town, it was very much everyone knew who you are and everyone knew all about the league and it was a bit of a shock to the system."
But it is Melbourne where Mentor has now settled, possibly for good.
About to start her third season with the Vixens, the 29-year-old has recently bought a house with her partner, "a Victorian lad", and hopes some of her family will soon join her out in Australia.
The Vixens have set their star import up with a job as a community engagement officer at Netball Victoria, working closely with multicultural groups - something Mentor, who has Caribbean heritage, is passionate about.
"The league has opened up some amazing opportunities for me, not just being able to grow and challenge myself within the sport, but also to live in a new country and get a taste of the life of a professional athlete."
Beaten finalists last season, the Vixens are one of the early title favourites this year, and with the return of wily veteran Sharelle McMahon to lead the attack, Mentor is confident her side will live up to expectations.
Having already won a premiership with the Thunderbirds in 2010, Mentor is desperate to collect another title this season - an achievement she would rate right up there with a test series win over New Zealand or Australia.