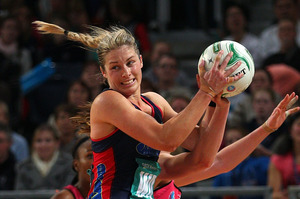 She was meant to be the final piece of the jigsaw but now Julie Corletto looks like the key to respectability for the Mystics this season.
The gun Australian Diamonds defender is the highest profile import to hit these shores but her job description has changed dramatically since the start of off-season training.
First Mystics lost Charlotte Kight with an Achilles injury in January, then Anna Harrison fell pregnant last month, ruling her out for the season.
The dual losses have left the 26-year-old as the kingpin of the defensive end, with relatively inexperienced options around her.
Far from being title contenders, there is already the feeling that the Mystics might struggle to push for the top four.
"What has happened during the pre-season has been disheartening for the team - there is no doubt about that," says Corletto. "We have been going well generally but keep having these hiccups along the way."
However Corletto is staying positive.
"You can't go into a season worried," says Corletto, "I'm really excited about it. The pre-season hasn't gone that smoothly but I guess you could also be a bit worried going in if everything is perfect. Losing a few games pre-season only makes you hungrier and more determined to get the wins when the season starts."
Aside from the personnel losses, there has also been talk in netball circles that not all is well in the Mystics camp. Certainly, Maria Tutaia is struggling with the sudden responsibility of being sole captain (after initially being co-captain with Harrison) and coach Ruth Aitken has had the difficult transition back to being a franchise coach. Of most concern is that the team's standards were slipping and Kight and Harrison were two that could be relied on to uphold those.
"We had a chat recently about all the things we could control within the team," says Corletto. "Little things on and off the court; the one per centers that everyone talks about. We need to tick all the boxes and make ourselves accountable. If we are doing all the right things and being a professional team, hopefully that will be enough to get some wins on the board. We certainly have plenty of talent at the attack end and it is up to us to get enough turnovers to give them chances."
One hopes that the Mystics can be competitive, as Corletto deserves a platform to shine. A precocious talent from an early age, she broke the mould of bean pole defenders at 'only' 1.84m. She made her international debut in 2007 and was the youngest member of the victorious Australian team at World Championships that year.
Corletto was Australian netball's player of the year in 2009 and her absence (through injury) at the 2010 Commonwealth Games was cited as a major contributing factor in the Diamonds' narrow Delhi loss by coach Norma Plummer. Corletto returned with a vengeance at the 2011 World Champs, a key figure in limiting the threat of Maria Tutaia in the Singapore final. She has played in two ANZ Championship finals, winning with the Vixens in 2008.
Corletto is also a trailblazer. Australians have played here before but none at her level, while no Silver Fern has crossed the Tasman to play for an Australian franchise.
"Hopefully it does work," says Corletto, "and we have a good season and I go OK as well. I've been doing everything I can to keep in touch with the Diamonds programme and stay in the frame."
She has had the usual issues of any new Australian here with terminology, both on and off the court.
"Sometimes after training I will say 'OK, I'm going to put my thongs on now'," laughs Corletto, "and the girls immediately say 'you can't say that here'. I also can't get used to dairy instead of milk bar."
Teams here will refer to a quick switch of play across court as a 'square', while Australian teams talk of a 'swing'.
If the Mystics do achieve some success, Corletto is likely to become the most popular Australian on these shores since former Warriors captain Steve Price. She is engaging and affable off the court and ultra competitive on it. There is the hope she will bring that grit to the Auckland team, who have always struggled with the perception of being soft.
Corletto missed the latter part of the international season last year with a knee injury but says it is now 100 per cent. Though she misses friends and family in Melbourne, Corletto is enjoying life on the North Shore of Auckland with Breakers husband Daryl.
"It's great to be in a place where netball has such a high profile," says Corletto. "I guess I get recognised here a lot more than Melbourne, though often that is because I am with Daryl."

Play Virtual Netball
Test your tipping skills with Virtual Netball, our game for the ANZ Championship. It all starts Sunday 24 March with prizes and bragging rights up for grabs. Be part of the game and sign up now.