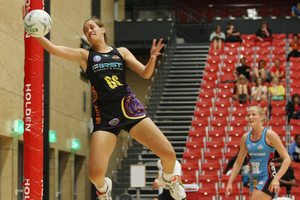 The ANZ Championship pre-season tournament, held in Tauranga last year, has been cancelled this year - with doubts it will be staged again.
Last year's event, which brought all 10 teams together across three days and had matches screened live on Sky, was generally viewed as a success on and off court. However, two of the franchises were reluctant to participate this year and that, coupled with the withdrawal of some of last year's major sponsors, spelt the death knell for the event in 2013.
"It wasn't really financially viable to continue this year," says Netball New Zealand CEO Raelene Castle. "There are significant costs involved and, after some discussions, it was decided it wasn't the best use of that money, especially when two of the teams didn't want to come.
"It's all about investment versus return and it was a very time-consuming event to put on, especially having all the teams in one place."
Castle hopes the event can be staged some time in the future and become formally recognised as part of the calendar.
"We hope that when the competition reaches a more mature stage - especially financially - participation in such an event will be part of the agreement that a franchise signs with the league."
With England's financial bonanza (the sport recently received more than $46 million in funding), this situation highlights the gulf that may come to exist, with the sport in Australia and New Zealand still far from rich.
Last year's tournament was the first time since 2008 (when Sydney was the host city) that all 10 teams had come together in one venue at the outset of the season. At the time, it was seen as the start of a new era.
"It has always been our aspiration to hold one official pre-season competition," said ANZ Championship general manager Anthony Everard at the time.
"Thanks to the fantastic support of TCVL [Tauranga City Venues Limited], we now have the ideal venue and location to make this a reality."
There were undoubted teething issues last year.
Some teams had to play three games in one day, prompting worries about injuries and player exhaustion. The Melbourne Vixens were particularly perturbed about having games scheduled at 12.30pm, 4.30pm and 8.30pm on the Saturday.
Games stretched from 9am to 10pm - some of the then champion Firebirds resorted to sleeping on the floor in an upstairs office at TECT Arena during a particularly long stretch between games.
Overall, the tournament was well received and seen as a beneficial exercise. Because of the number of games, teams were forced to use all of their squads, meaning players and coaches got a look at players they might normally not see.
"I was quite hesitant about it because of the load," said Mystics coach Debbie Fuller at the time. "I thought it was unrealistic in such a short time.
"However, I've changed my view. It brings back the old tournament nature we used to have and it is great."
Silver Ferns coach Wai Taumaunu says it's a shame the event was not to be repeated. "Last year's event brought a lot of positives and you got to see a lot of the bench players because they were forced to get on."
The main event of this year's pre-season will be the Melbourne Vixens Summer Challenge, where the Vixens will host all four Australian teams plus the Mystics, Steel and Tactix across the weekend of February 23-24. The Pulse are taking on the Magic the same weekend in New Plymouth, while the Tactix also have trial matches arranged for March, with their opponents still to be confirmed.