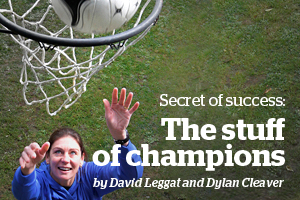 In a three-part series Herald chief sports writer David Leggat looks at the secret of success of some of New Zealand's greatest ever athletes.
Irene van Dyk's netball world boils down to a 4.9 metre semicircle and a post with a hooped net at the top.
Sure the court is 30.5m long, 15.25m wide and van Dyk can roam inside the front third of it. But what has defined van Dyk and her career is her ability in that small area.
Van Dyk and former Australian great Vicky Wilson, the steely shooting star of the 1980s and 90s, are the finest markswomen the game has seen.
Van Dyk's talent for putting the ball through that net, just 38cm in diameter at the top of a 3.05m high post, makes her a matchwinner. Her teammates defend, harass opponents, work the midcourt, set up the play specifically for van Dyk and her fellow shooter to put the full stop on the movement.
The art of the shot is combining a dead-eye, a clean, precise arm movement and a demeanour impervious to pressure.
So van Dyk has done her best to ensure her teammates' work does not go to waste.
Born and raised in Vereenberg, in the southern part of the Gauteng province in South Africa, van Dyk has known a goal post as a permanent fixture at her home since she was about six. She's never been without one since.
Now 40, she is netball's most-capped player, with 205 caps a wonderful record primarily built around one special ability.
"We had a goal post that my dad actually planted into the ground," she said. "My sister Janita played goal attack for her school team and ever since I can remember we've had a hoop at our house. When I got married my husband [Christie] made sure I had a goal post."
The van Dyk's shifted house in Wellington a few months ago. "It was the first thing up. The house was still in boxes but the goal post was out there ready to go."
It looks easy. Stand beneath the post and, especially when you're 1.90m tall as van Dyk is, lob the ball up and through the circular hole.
As with great sports performers who can make their job look simpler than it actually is, you don't get to be as good at her core role as van Dyk without doing the prep.
She doesn't know how many shots she's put up, how many hours she's spent honing her skill. Standing out in the backyard putting up shots on a miserable winter afternoon sounds dreary. It is.
"Honestly you'll do it for five minutes, then you think 'I have to make it more entertaining'."
So van Dyk has drills designed to put some fun into her work. Christie has used a broom with a towel wrapped around it, obscuring her vision. Van Dyk would have to shoot over it, or step around it, practising skills that are needed in the heat of a transtasman battle.
She finishes sessions with 20 shots from various points in the semicircle. Miss one? Start again. And she makes sure she's tired when she starts it. Being fresh as a daisy doesn't exactly simulate match conditions.
Her daughter Bianca is starting to make her presence felt on the court. They practice together. Competitive? You bet.
After van Dyk retires she reckons she'll still pop a few shots at the piece of sporting equipment which is synonymous with her name. Old habits. Just maybe not 20 in a row.
The stuff of champions - Yvette Corlett