New Zealanders say the 20-goal loss to their arch-rivals across the Tasman has been a huge wake-up call.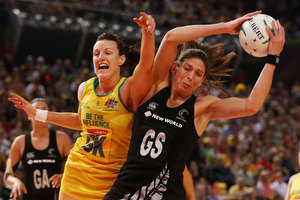 Irene van Dyk described it as "traumatic", Katrina Grant said it was a "kick in the guts", while for Waimarama Taumaunu it was simply "unacceptable".
A sombre Silver Ferns team touched down in Wellington yesterday, hoping to leave Sunday's embarrassing 48-68 drubbing at the hands of Australia behind them in Sydney.
But a post mortem examination of the game is needed.
After last month's breakthrough series win in the Constellation Cup, the New Zealanders were at a loss to explain their sudden drop-off in form against the Diamonds.
Van Dyk believes the Ferns were caught off-guard by Australia's rampant start and things quickly spiralled out of control.
"You could see the hunger in Australia's eyes and we were just dumbstruck, really. The more we tried, the more things seemed to go wrong," she said.
"It was quite traumatic."
You'd have to fossick a long way back through the archives to find an occasion when the Ferns have played worse.
The last time New Zealand were beaten by 20 goals was in Newcastle in 2000, when Australia crushed Yvonne Willering's side 53-30. That game was van Dyk's first test for New Zealand.
"It was kind of like deja vu," said van Dyk who, just as she did back in 2000, started Sunday's game on the bench.
She has since gone on to play 136 games for the Silver Ferns and can scarcely recall a time in between when her side were so comprehensively outplayed.
"[Sunday night] hurt us, it hurt us badly. We train so hard to play our best and when we don't we take it very hard," van Dyk said.
The result all but assures Australia the Quad Series, with the Diamonds taking a healthy goal-differential buffer into the New Zealand leg. Even if the Ferns win the rematch in Hamilton next week, they're unlikely to make up the difference.
But with three matches still remaining in the series the Ferns have little time to sit and stew. Grant said that how they responded would be a real measure of the team's character.
"[The loss] was a huge wake-up call for us. We had a very honest debrief after our game and took a long, hard look at ourselves. We know where we went wrong and we know what we need to do to improve," she said.
After standout performances against South Africa and England, Grant looked especially flustered in Sunday's game, as shooters Catherine Cox and Susan Pratley carved up the defence with ease.
"It was really frustrating, I seemed to get whistled out of the game, but that is my own fault and I need to go back and look at the tape [to] sort myself out," the defender said.
The Ferns next face an England side that will be smarting from a poor showing against South Africa on Sunday. The Proteas held a surprise two-goal lead at halftime, before England fought back in the second half to record an unconvincing win.
The New Zealand side has been boosted by the return of Camilla Lees and Jodi Brown, who both rejoined the team in Wellington yesterday, replacing Shannon Francois and Anna Thompson. There has also been another change to the coaching staff, with Gail Parata continuing the rotation of assistant coaches this year, replacing Janine Southby.
The Diamonds have injury concerns heading into Thursday's game against South Africa, with Kim Green to miss the remainder of the series with a foot injury that has been hampering her for some time, while captain Natalie von Bertouch yesterday had scans after injuring her ankle early in Sunday's clash.
Australian coach Lisa Alexander is hopeful the scans will reveal nothing sinister and she will have the services of her captain for the remaining three games.
Four other horrors from Ferns
World Seven 53 Silver Ferns 44, Rotorua, 2009
The Ferns had a dreadful start to their 2009 season, losing to a World Seven compilation team that had been thrown together less than a week before. They followed that up in Rotorua with an even worse performance, with former Samoan inter-national Cathrine Latu leading the World to a convincing win.
England 40 Silver Ferns 38, Dunedin, 2008
Just three days after trouncing England by 39 goals in the series opener, New Zealand slumped to a two-goal loss to the Pamela Cookey-inspired side - just their second loss to England. Mercifully it was the last time Irene van Dyk started at goal attack in international netball.
Australia 58 Silver Ferns 57 (ET), Singapore, 2011
Last year's world championship final makes the list because it was the Ferns biggest choke on the biggest stage, the world championship final. New Zealand blew several opportunities to close out the match.
Australia 48 Silver Ferns 38, Sydney, 2006
Start of a decline for the Silver Ferns after enjoying a period of dominance over Australia, which stretched from their 2003 world champs win through to the 2006 Commonwealth Games.