Geva Mentor would love to help her struggling team ... but she's not wanted.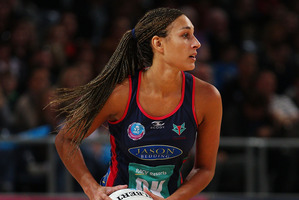 Geva Mentor - probably the greatest netballing talent England has produced - believes her international career may be over because of England Netball's stance on overseas-based players.
A frustrated Mentor has watched from her couch at home in Melbourne as her side suffered heavy losses to Australia and New Zealand in their opening Quad Series matches.
The star defender made herself available for the series, which moves to Sydney on Sunday, but was not selected as she could not commit to England's full international programme this year.
Mentor had to rule herself out of the home test series against Jamaica in August as she was in the process of trying to buy a house in Melbourne and starting a new job at Netball Victoria.
But England coach Anna Mayes was not willing to make an allowance for the athletic defender and left her out of the team altogether.
"I was told I was a required player and it was all or nothing from England Netball's perspective," Mentor explained.
England Netball's no compromises approach on player availability also ruled out NSW Swifts defender Sonia Mkoloma and Mystics midcourter Jade Clarke - both of whom have captained England - as neither could commit to the full programme.
England's refusal to select Mentor appeared even more ridiculous when they lost their most experienced defender, Ama Agbeze, to a back injury in the opening test. Despite having a fully fit world-class defender already in Australia, England will not be giving Mentor a late call-up.
Mentor said she worries England's policy may force her to prematurely retire from international netball.
"It's an issue that is going to keep arising," she said.
"I'm not too sure what the future holds for me - I'm just playing it year-by-year and hopefully we can find a resolution soon."
England Netball's position is understandable, if too inflexible. Since the advent of the transtasman league, it has watched as its top players have been snapped up by ANZ Championship teams, returning to the UK burned out and in need of a break.
This year six English internationals picked up ANZ contracts, the other three being Stacey Francis (Tactix), Jo Harten (Tactix) and Eboni Beckford-Chambers (Fever).
Mayes said she stipulated to those players that they needed to be available for selection camps and the full international programme to be eligible for selection.
"At the end of the day, netball is a team sport and we need to ensure we have these players working together so they know what each other is doing out there and that is where England Netball has fallen down in previous years," she said.
Mentor said she respected Mayes' decision, but found it frustrating that Netball New Zealand and the Australian national body gave their players time off to accommodate family and work life, but England Netball did not have the same flexibility.
Silver Ferns midcourter Camilla Lees is sitting out the Australian leg of the Quad Series because of study commitments and shooter Jodi Brown also didn't make the trip to Australia so she could spend time with her young family.
The Diamonds have rested defender Laura Geitz for the remainder of the international season.
"It's a shame [England Netball] can't follow suit with how New Zealand and Australia seem to roll things out," said Mentor.
"I'm a respectful person and like to think I'm not too demanding or trying to have my cake and eat it too. I just think there is a way England Netball would be able to accommodate players that are in my position."
Netball is a semi-professional sport that requires a fulltime commitment from players. For the likes of Mentor and other internationals playing in the transtasman league, the season now runs from January through to early November.
Despite being one of the stars of world netball, Mentor still has to supplement her income with a part-time job at Netball Victoria.
The transtasman league is the toughest netball competition in the world, so it is the goal of many England players to pick up ANZ contracts.
The fierce competition week-in, week-out against the world's best players has had a significant effect on Harten and Beckford-Chambers' games this year, and both have played starring roles for England in this series.
As England's presence in the transtasman league grows, Mentor said, more and more players would find themselves in her position.
"It's a really tricky situation, but I hope it can be sorted for the future," she said.
"The national programme should support players coming down here and playing - it's the best competition in the world."
Mentor can still be seen on Sky Sport next month - as part of the commentary team for the Fast5 World Series.