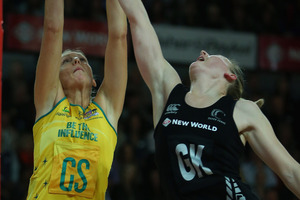 Casey Williams' impending return to the Silver Ferns means coach Waimarama Taumaunu has plenty of options for her defensive circle but will have to make some tough calls ahead of the inaugural Quad Series starting today.
Leana de Bruin and Katrina Grant got the lion's share of game-time for New Zealand in last month's 2-1 Constellation Cup series victory over Australia where Anna Harrison was deployed as wing attack to cover the absent Joline Henry. Williams sat out that series with a knee injury but looks set to lead the Silver Ferns in the four-team tournament that also features Australia, South Africa and England.
New Zealand open their campaign against South Africa in Adelaide tonight. Grant said she didn't know exactly what Williams' return to the fold meant for her but hoped she would still see some action.
"I hope we all get a chance," Grant said. "It's a good time with six test matches where we can all hopefully jump on the court and get some combinations going. But you never really know what's going to happen or who's going to play and who's going to start until it comes to the day before and how training's going, so we will have to wait and see."
After New Zealand meet South Africa they play England in Newcastle on Wednesday before taking on Australia in Sydney next Sunday.
After the Australian leg of the tournament, New Zealand have the luxury of three home games, with outings against England in Wellington, South Africa in Tauranga and Australia in Hamilton stretching into next month.
Grant will be hoping the games allow her to continue the form she has displayed during her best year on court. After the 25-year-old recovered from a stress fracture in her foot at the end of last year, she bounced back in style with a dynamic campaign for the Central Pulse this year.
"It's probably been my most consistent year with netball, which is always a good sign. As you get older you do want to get a little better so that is good," she said. "I'm also just a little bit more confident and having a few wins under my belt with the Pulse and some good performances does help your confidence."
Last year's stress fracture was her third in four years and the defender said she finally feels like she has got to a point where she is injury-free.
"It's probably getting to know my body and listening to it and taking a break when I need to and not just trying to push through things and thinking you're invincible. If you've got a sore foot and you keep playing, it gets worse and worse and all of a sudden there's a stress fracture. It's time to stop at the first sign of pain. So just learning my body as I've got older has helped me out."
On the franchise front, Grant said she will play for the Central Pulse again next season but had yet to finalise her contract.
Because of the extended time it took to ink a new collective bargaining agreement for the New Zealand franchises, teams haven't been able to sign players as early as they would have liked, while tweaks to the cap have thrown another spanner in the works.
Third-party deals will be more common, but the league administrators have enforced a hard cap, which means extras on top of players' salaries such as rent will be more stringently managed.
- APNZ