Williams faces further test on injured knees as she eyes return for Ferns against Aussies.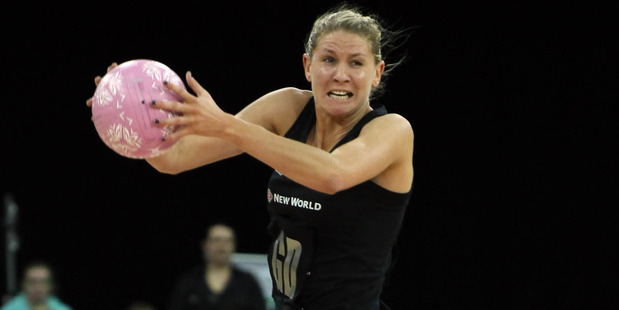 Casey Williams' weary knees will have to hold up to one more brutal court session if she is to get the all-clear to make her international return in tomorrow's second Constellation Cup netball test.
The Silver Ferns captain, who sat out Sunday's 54-52 win over Australia in the series opener with a knee injury, took part in most of the team's training run yesterday and reported afterwards that her recovery was progressing well.
The team's strength and conditioning coaches have been working Williams extra hard to ensure her knee can cope with the demands of 60 minutes of high intensity netball. The athletic defender will need to make further progress today if she is to convince medical staff she is ready to take the court.
The Ferns have an opportunity to wrap up their first series win against Australia since 2004 in Auckland tomorrow, but Williams, who battled through last year's world championship final with a calf injury, is adamant she won't play unless fully fit.
Williams admitted she was "really, really frustrated" at having her return to the test arena put on ice after a 14-month international lay-off, but said she was focusing on the big picture.
"If I'm not 100 per cent then I'll wait to [the third test in] Christchurch. I know it's not in my best interests, or the team's interests for me to force things right now," said Williams.
With two dodgy ankles and patella tendinitis in both knees, Williams is coming to terms with the fact her injuries need to be carefully managed if she is to last through to the 2014 Commonwealth Games and the world championships the year after that.
That may mean sitting out a couple more tests in the Ferns' busy international season, but Sunday night's win proved that New Zealand coach Waimarama Taumaunu has a strong contingency plan.
Despite limited court time as a combination, Katrina Grant and Leana de Bruin did a solid job of shutting down the Australian attack in Melbourne. Grant said there were several areas that could be fine tuned if they were to make more of an impact.
"Obviously we haven't played together that much - we've had a quarter here and a quarter there, but I thought it was working well and our switches were getting there, but we were probably a little bit off a couple of balls we could have got," she said.
"Depending on what happens on Thursday we might get a chance to work on that, but it would be great to have Casey back as well."
The fact the Ferns managed to win the opening test without the services of their best defender has not been lost on Australian coach Lisa Alexander. She believes her side will improve tomorrow regardless of which defenders New Zealand put on the court.
A record crowd of 8800 is expected at Vector Arena tomorrow. Tickets sold out over a month ago, but organisers yesterday released a further 200 seats, making it the biggest crowd for a netball match in New Zealand.
Constellation Cup
Test 2, Vector Arena, Auckland, 7.40pm tomorrow
* 8842 expected crowd
* 8118 previous record netball crowd (New Zealand v Australia, Vector Arena, 12/06/2011).