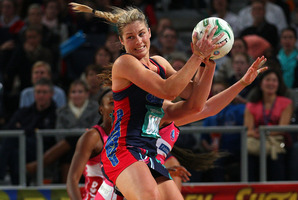 It was news that the Northern Mystics had hoped to release early next week to great fanfare.
But the announcement that top Australian defender Julie Corletto would be joining the Auckland franchise for the 2013 transtasman league instead came via a short statement on her former club's website on Monday night. The only problem was Corletto had yet to put pen to paper.
Mystics chief executive Julie Paterson said an agreement was drafted on Tuesday and she expected to have the deal stitched up by the end of the week. "We've agreed to all the terms, and we got the paperwork through to Julie today - we're all but there."
It is understood the Mystics have complained to the ANZ Championship office over the Melbourne Vixens' handling of the announcement, but Paterson said she did not want to enter into a "debate through the media".
It was hardly the shock of the century that the star defender would be coming to Auckland. Speculation had been rife since Corletto's basketball-playing husband, Daryl, re-signed with the New Zealand Breakers for the 2012-13 Australian NBL season that the star defender would likely turn out for the Mystics next season.
But the Mystics will still feel aggrieved that the Vixens took it upon themselves to reveal Corletto's plans when the two parties were still involved in confidential contract negotiations.
Former Silver Ferns coach Ruth Aitken, who will take over the helm of the Mystics next season, is in Melbourne for the New Zealand under-21 tour and had a meeting with Corletto at the weekend.
"We had reached a point on Friday where we were all reasonably confident that we were in a position to do a deal, and so Ruth was able to meet up with Julie over the weekend and talk through some details," Paterson said. "It was just an opportunity for Julie to meet with people face-to-face and give her a bit more surety about who she was dealing with."
With Corletto taking up the one spot for an overseas import on the Mystics' roster, it means there is no place for English international Jade Clarke next season.
"It's a real shame. We thought Jade was an outstanding contributor to the team this year - she is a very committed and hard-working athlete. So it's horrible when you have to make decisions like that."
Corletto's signing means management have some very difficult decisions to make in the coming weeks over which players they will retain from what was already a very defensive group last season.
With Anna Harrison (GK, GD), Jessica Moulds (GK, GD), Rachel Rasmussen (GK, GD), Kayla Cullen (GD, WD) and Charlotte Kight (GD, WD) all in the Mystics mix, it is likely there will be casualties from last season's roster.
However, Paterson believes that with some slight reshuffling, no players will need to be let go. "It just means players will be shuffled around a little bit, but nothing that has not already been discussed with the players, so we don't expect we will need to drop anyone."
Though it may be the Mystics' intention to retain most of their 2012 squad, it does not necessarily mean the players will stick around. Fringe players such as Moulds may be advised, in the interests of securing more court time, to shop around for a contract.
Even with the reshuffling of existing players to help cover the losses of Clarke and former captain Temepara George, the Mystics will still be on the lookout for an attacking midcourter.