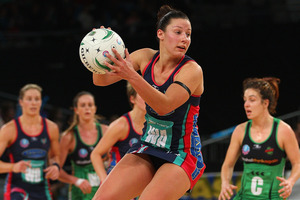 In a sport increasingly dominated by giants, 1.68m Madison Browne stands out.
The Vixens midcourter is the second shortest player in the ANZ Championship and is dwarfed by team-mates such as Kate Beveridge (1.93m) and Bianca Chatfield (1.89m) and opponents such as Leana de Bruin (1.90m) and Irene van Dyk (1.90m).
But it is not her stature that people tend to notice, more the fact that Browne is one of the most effective players in the league.
Put simply, if the Magic are to have any chance today, they have to stop the livewire midcourter. Across the season, she has contributed 239 goal assists - more than anyone else in the competition - which means she has provided the last pass for more than one third of the Vixens goals. She has also received a league-leading 278 centre passes, with her energetic presence helping to take the heat off an inexperienced front line.
"Ideally we want our shooters to just go in there and shoot," Browne told the Herald on Sunday.
"It is one of my jobs to control the attack end and, if we work really hard, hopefully they don't have to move as much."
"Obviously I've been watching a lot of her recently," says Magic coach Noeline Taurua. "She is a great link and lifts every-one else in that team. She provides a very soft delivery to the shooters and her feeding and awareness are as good as it gets."
Browne laughs off comments about her height, although admitting it's an "interesting situation" when she visits primary schools and some pupils are taller than her.
"Sometimes it feels like I am part of an extinct species and they are wiping us out," laughs Browne. "What is happening to the pocket rocket? Even the centres are getting taller; we have seen (1.83m) Joline Henry at centre this year. But I need to take it as a strength; I bring some unique skills and hopefully can inspire others into the sport."
According to Brown, the Vixens' surprise success this year was cemented during their arduous schedule at the start of the season, when they faced games in Brisbane, Perth and Adelaide over consecutive weeks. As well as winning all three, the team forged a strong bond on the road.
"We learnt a lot about each other," says Browne. "After losing Sharelle [McMahon], we were probably a bit inexperienced at the attacking end but that hasn't stopped us."
The Vixens have proved resilient, winning three games by a single goal and doing the double over the Firebirds, Thunderbirds and Fever. Shooters Tegan Caldwell, Kate Beveridge and Karyn Howarth have wavered but Browne has been a constant.
"Madi has been fantastic," says team-mate Julie Corletto. "You know if you put a ball anywhere near her, she will get to it."
The energetic wing attack talks just like she plays - a million miles an hour. She claimed the title of Australia's fittest netballer earlier this season in a competition sponsored by a television network that included all kinds of physical and endurance tests, as well as rock climbing, white water rafting, surf lifesaving and a grand finale which included a mechanical bucking bull ride.
She claims to be fitter and faster than ever, saying she has shed 10kg since returning to Melbourne from the Fever last year, helped by runs, swims and rides with her triathlete partner.
The 24-year-old is confident her side can beat the Magic, who haven't lost since April: "Last time, we stole that victory by one," says Browne, "but I think we match up quite well against them. Geva [Mentor] plays really well against tall shooters and Julie Corletto creates a lot of pressure out in front of the circle.
On attack, we will have to play quite short and sharp - given their height - but that suits our style perfectly. We believe in our game plan and brand of netball; we just have to do it for four quarters."