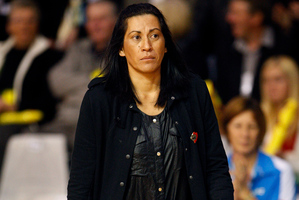 Magic 49 - Thunderbirds 48
Noeline Taurua told her side at halftime, if they were going to lose, they better make sure they go down playing their best netball.
The Magic had just surrendered an eight-goal quarter time lead to trail 26-23 heading in to the long break after falling prey to the Thunderbirds' confrontational defence. The visitors piled on the pressure in the second period, and the Magic's attack end wilted. They began getting caught up in the individual battles, and began showing their frustration at some of the umpiring calls. But Taurua was having none of it.
"When we went in to the changing room down at halftime, we said if we were going to lose this game, we were going to come from a place of strength. We weren't going to be a victim of the umpires or to opposition tactics, we were just going to go out and play," she said. "That's the mentality we have to to take in to finals netball."
The Magic responded after the break with the same grit they've shown in their remarkable run in to the play-offs, in which they came from last on the table to make the top four.
The Magic coach, who admitted she felt the Thunderbirds had the edge for three-quarters of the game, believes the result has set her side up well ahead of next week's preliminary final, having proved the difference in umpiring interpretations between the New Zealand and Australian officials needn't influence the result.
"There's some really good learnings to take in to next week so we don't get the umpire involved and get a lot smarter."
The Magic will battle it out with the Northern Mystics in Auckland next week for the remaining spot in the title decider against the Melbourne Vixens.