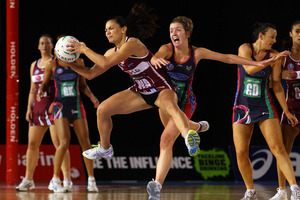 And suddenly the pendulum has swung back across the Tasman once more. After four years of Australian dominance, there was a strong sense the tide was finally turning for the New Zealand teams heading into this year's ANZ Championship playoffs.
The unpredictable Mystics had shown glimpses of dangerous form, and are proven performers at playoffs time, while after a slow start that almost proved terminal to their campaign, the Magic have played their way into a rich vein of form.
Coupled with some question marks hanging over the consistency of the Australian contenders, some even dared to dream of an all-New Zealand final.
But the Northern Mystics' demoralising loss in yesterday's minor semifinal has placed the Melbourne Vixens in the box seat to claim their second ANZ Championship crown.
In the first four years of the competition, no team has been able to tip over the hosts of the grand final.
And there's further bad news for the remaining title hopefuls. Although the Vixens were the first side through to the title decider, coach Julie Hoornweg believes there is still room for improvement in her pace-setting side.
"I think there are a lot of areas we can tidy up on. In the second quarter, we had a good start for about five minutes and then threw a couple of errors in," she said.
After the Mystics' dramatic second half collapse against the minor premiers yesterday, the Magic are now looking New Zealand's best bet for breaking Australia's stranglehold on the competition.
The Waikato-Bay of Plenty side have been impressive in their gallant charge to the playoffs after finding themselves dead last on the table four rounds in.
They've strung together nine straight wins, all but two of them by double figures, to pull off what many had considered an impossible task.
But even given their strong form, there is an uneasy feeling heading in to tonight's sudden death semifinal.
While the Magic have been faced with a do-or-die plight since round five, the intensity now goes up several more notches as they enter playoffs netball, and the Waikato-Bay of Plenty side's post-season record is not strong.
In 10 playoff matches, the Magic have won just three.
The Magic may have been 17 goals better than the Thunderbirds two weeks ago, but the dangerous Adelaide side are known to produce the goods at finals time - unlike their opposition tonight.
The home side must show the desperation, desire, hunger and composure - for the full 60 minutes - to book their place in the preliminary final and ensure there will be a New Zealand team to take on the Vixens for the title.
There may have been encouraging signs that Kiwi teams are closing the gap on their Australian counterparts this season.
But encouraging signs are no longer good enough.
For the credibility of the competition, a New Zealand side needs to win a championship.