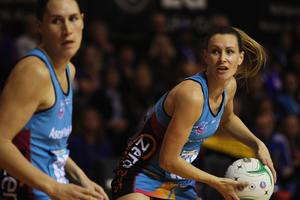 Southern Steel 38
Melbourne Vixens 56
A disappointing season came to an equally disappointing end for the Southern Steel tonight, going down 56-38 against the Melbourne Vixens in the southern franchise's final match of the ANZ Championship season at the Southland Velodrome in Invercargill.
The Steel simply couldn't come back from a horror first quarter, which left them trailing 17-6, but the Vixens were slick. Quick on attack, relentless on defence, they put the Steel under massive pressure and the home side succumbed.
The Steel took more than four minutes to score their first goal and more than 20 minutes to reach double figures, with the Vixens defensive trio of Bianca Chatfield, Julie Corletto and English international Geva Mentor forcing plenty of turnover ball and their shooters Karyn Howarth and Tegan Caldwell converting it.
By the second quarter, the Steel looked much more settled. Te Paea Selby-Rickit entered the match at goal shoot, with Jodi Brown moving to wing attack to replace Shannon Francois, and almost immediately the Steel lifted with Selby-Rickit's height and circle movement making huge improvements to the Steel's attacking flow and Brown's feeds into the circle working nicely.
An improved second quarter couldn't bridge the gap, however, and Melbourne held a commanding 31-17 lead at break.
In the third quarter, Storm Purvis and Demelza McCleod moved back to their more familiar positions of goal keep and goal defence respectively. It was a move that saw them pull in some quality ball and they were spurred on by a near-capacity crowd that simply wouldn't acknowledge the gap that was widening on the scoreboard.
The final quarter almost summed up the Steel's season: glimpses of brilliance and some encouraging signs, but an experienced opposition that simply proved too classy.
The result was a sad way for Sheryl Scanlan's career to end, with the experienced defender retiring from the game after a raft of injuries.
The Vixens now move on to the ANZ Championship finals. The Steel head back to the drawing board to reflect on a season that could have delivered so much more.
Steel 38 (Donna Wilkins 14/16, Te Paea Selby-Rickit 21/28, Jodi Brown 3/5) Vixens 56 (Karyn Howarth 26/30, Tegan Caldwell 26/28, Kate Beveridge 4/4). HT: 17-31.