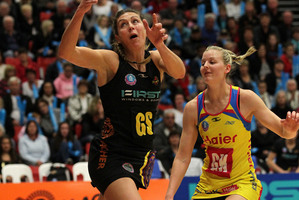 The Magic are on the cusp of the top four in the transtasman league after overcoming an early scare from the Central Pulse.
Well beaten the last time the two sides met, the reinvented team from the capital fancied their chances of giving the Magic a run for their money last night - and for 30 minutes they did.
Led by a brilliant defensive effort from captain Katrina Grant and Te Huinga Reo Selby-Rickit, the Pulse grabbed a shock 22-16 lead late in the first half.
But the Magic, who have been faced with the do-or-die scenario since round five, responded well, taking the lead early in the third quarter and never relinquishing it.
Last night's win, the Magic's sixth in a row, lifts them to fifth, just ahead of the Firebirds on goal percentage following the Queensland side's 54-49 loss to the Thunderbirds yesterday.
A rejigged midcourt, including Silver Ferns' wing defence Joline Henry at centre, has coincided with an impressive momentum shift from the Pulse, who strung together a franchise-record three straight wins in the lead-up.
Their new-found confidence was evident in all but the opening five minutes of the match, but the sight of coach Robyn Broughton glowering on the sideline was enough to snap the yellow-dresses out of their early slumber.
Capitalising on turnovers from their defensive end, the Pulse fought their way back to trail by just one at the first break.
The momentum stayed with the Pulse in the second period, Grant and Selby-Rickit doing an impressive job of confusing the space for the Magic feeders as they tried to find Irene van Dyk.
With the Magic breaking down on attack, the Pulse took a surprise lead early on in the second spell and steadily built on that as they continued their clinical, no-frills approach on attack to lead 24-21 at halftime.
The Magic took to the court with a strong resolve in the second half, with Casey Williams and Leana de Bruin notably upping their aggression in the defensive end.
The increased intensity on defence was matched with better execution on attack and the Magic reclaimed the lead at 26-25, pushing it out to 38-33 at the final break.
Magic 52
Pulse 42