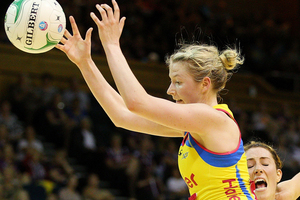 The Steel did not have to worry about former coach Robyn Broughton plotting its downfall. It was perfectly capable of its own demise.
From the odd decision to play regular goal shoot Jodi Brown at wing attack, to yet another sluggish start, the Steel brought about its 50-58 defeat to the Central Pulse in Dunedin last night.
It was the Steel's fifth consecutive defeat - its worst losing streak in the history of the competition - and it has ended any hope of making the playoffs.
Steel co-coach Natalie Avellino blamed the lacklustre showing on poor execution and a sloppy start.
"Our centre pass wasn't much good,'' she said.
"We threw too much away and at times our through court defence was just too far off. We are really disappointed with the performance.''
Avellino said the decision to shift former Silver Ferns shooter Brown to wing attack was partly forced on the team with regular wing attack Courtney Tairi ruled out with a season-ending knee injury. Also, back-up shooter Te Paea Selby-Rickit had been training well and deserved an opportunity.
"We felt she deserved an opportunity and we needed to look at different combinations with Courtney out. Jodi does a lot of our feeding in to the circle so she we knew we could get the ball in there.
"And it was something we needed to try. We have not won for a while so we needed to put something different on court.''
Bonus points for thinking outside of the square but the move was not particularly successful. Brown used her passing game to good effect but struggled to come to terms with the restrictions of the new position. Somehow, though, she summoned all her will power and remained onside.
Had it not been for the hustle of Donna Wilkins and Steel defensive paring Demelza McCloud and Storm Purvis, the home side would have gone into the first break trailing by more than two goals.
Meanwhile, the Broughton-inspired experiment of playing Joline Henry at centre, rather than at wing defence, was paying dividends.
The visitors strung together five consecutive goals after the break to ease to a 19-12 lead. Henry played her part with some fine feeds into the shooting circle and linked well.
Brown had warmed to her role by the halftime break. But with Selby-Rickit landing 12 of her 19 attempts, the Steel was forced to shuffle its line-up. Brown moved to goal shoot with midcourters Phillipa Finch and Shannon Francois moving up court one position and Louise Thayer coming on at wing defence.
Someone shout Bingo! Suddenly the attack end was back functioning at its best and the Steel quickly pruned the gap to one.
The Pulse was not about to concede its lead and battled hard to stay in front. A turnover deep in the quarter saw the Wellington-based franchise re-establish its buffer and a miraculous pass found Thwaites under the net with just enough time to add one to the four goal lead.
Veteran defender Sheryl Scanlan replaced Purvis in the defence circle for the final quarter. The gap, though, proved to big to bridge.
Forced into catch-up netball, the Steel turned the ball over at crucial times.
Pulse shooter Caitlin Thwaites shot superbly, netting 35 of her 40 attempts and grabbed most of the rebounds when she missed.
The Scores
Pulse 58 (Caitlin Thwaites 35 from 40, Paula Griffin 23/29)
Steel 50 (Donna Wilkins 22/24, Jodi Brown 16/19, Te Paea Selby-Rickit 12/19)
Quarter 12-10, halftime 26-21, third quarter 41-36