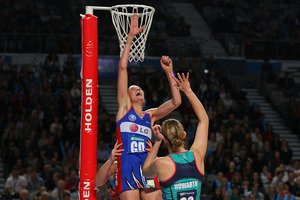 If you are wondering about the likely future of the 'Harrison hoist' in netball, you might be best advised to talk to a man.
That's not a misprint.
Though the tactic, spectacularly unveiled by the Mystics last Sunday, hasn't been seen before in the ANZ Championship, it has been a regular feature in men's netball for years.
With their height and strength advantages, the practice of goal tending - whether from a pure jump or assisted as in the case of Anna Harrison - has been common, though it has become less prevalent over the last decade.
"It's been used in our game ever since Adam was a cowboy," says New Zealand under-23 men's coach David Pala'amo. "It can still be an effective tactic but is seen a lot less now than it previously was. Attackers have found ways to eliminate it."
Pala'amo says that attacking players have become proficient at blocking the use of the tactic, either by getting between the two defenders to prevent contact, or by positioning themselves close enough to the hoop to negate the ploy.
He adds that in the men's game, the tactic tends to vary; it is used in Canterbury, the stronghold of the men's game, more than other regions.
Meanwhile, expect the hoist to feature in the international arena later in the year but perhaps only as a novel game-breaker rather than a staple of the defensive game plan.
Silver Ferns coach Wai Taumaunu was a keen observer last Sunday night and was aware of the Mystics' machinations; indeed, the Ferns had been trying the manoeuvre themselves in their January training camp earlier this year.
"It's a difficult skill to master," concedes Taumaunu. "There are not that many players like Anna [Harrison] running round with her build, incredible standing jump and volleyball background. I guess we are lucky - we have the best proponent of it in our team [Harrison] so it is something we will definitely be looking at."
Taumaunu can't envisage specialist lifters becoming a feature of the game but feels there may be room for specialist jumpers in the future. Though she appears to downplay the tactic, it is clear that the Ferns coach has been quietly doing some homework. In terms of the Australian shooters, she reasons that some will be easier to target than others.
"In theory, someone like Catherine Cox might be more susceptible to the lift," says Taumaunu, "as she has a quite a flat shot. It would be harder to counteract a [Caitlin] Bassett or a [Kate] Beveridge, as they tend to have looping shots that go higher into the air before dropping down into the hoop."
Bassett would be doubly difficult, as she has a relatively quick release once the ball is in her hands compared to other attackers, giving the defenders less time to prepare for the lift.
Earlier this week, Cox was highly complimentary of the tactic, after pointing out that the Diamonds have tried to master it in training over a decade ago but never felt confident enough to try it in a game.
"They've found a new element to their defence," Cox told Australian media. "I think it's incredible they've managed to time it and achieve it in a game."
"It's not ideal for us [shooters] though as far as I'm concerned, good on them. It's obviously a hard thing to do, they can't do that every shot. For the most part, they're playing normal netball."
"Overall, it provides a great challenge, though we can't forget that the public still want to see goals," says Taumaunu. "That has got to remain the main thing."