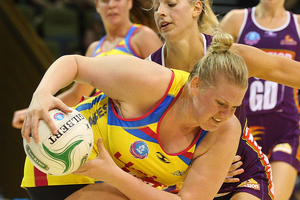 PULSE 47 THUNDERBIRDS 46
The Central Pulse have upset the natural order of the transtasman league, pulling off a shock win against their highly fancied Australian opponents in Wellington last night.
The Pulse upstaged the table-topping Adelaide Thunderbirds, fending off a late comeback from the visitors to seal a thrilling one-goal win.
A run of eight unanswered goals midway through the third period set the Pulse up for the win, as they took a 33-30 lead going into the final spell, putting all the pressure on the competition leaders down the home stretch.
Going into the match Thunderbirds captain Natalie von Bertouch claimed the fixture loomed as a dangerous one for her top-of-the-table side.
Her prediction proved correct with the Thunderbirds never looking comfortable against a fiery defensive effort from the Pulse.
Brilliant against the Northern Mystics in Auckland three weeks ago, the Thunderbirds looked as though they had forgotten how to play against the New Zealand style of defence.
Pulse defenders Katrina Grant and Te Huinga Selby-Rickit did a brilliant job of confusing the space for the Thunderbirds feeders, who struggled to get the ball into their key strike weapon, 1.93m shooter Carla Borrego.
The Pulse made a big impact on defence from the outset, with Grant coming up with two clean intercepts inside the first five minutes. Those early possession gains went unconverted though, as the home side had some struggles of their own finding their shooters.
With both sides struggling to find their rhythm on attack, a low-scoring opening quarter ensued, with the Thunderbirds holding a narrow 12-11 lead at the first break.
The visitors maintained their one-goal lead at halftime after a see-sawing second quarter, in which both sides produced strong surges.
Having enjoyed the weight of possession with little to show for it, the Pulse got their act together in the third quarter of the match as the attack end looked to work the ball around more and be smarter with their option-taking.
Joline Henry, playing in the unfamiliar centre position, slowly warmed into her role as her feeds to teammates in the circle began to find their mark.