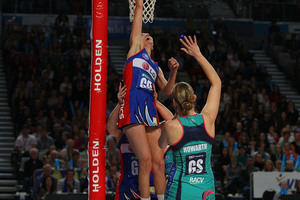 Mystics defender Anna Harrison being hoisted in the air to repel a goal-bound shot in yesterday's ANZ Championship game came as a shock to most - but not Dawn Jones.
As head of international netball's match officials advisory panel, Jones knew the move - in which Harrison's teammates lifted her in a manner akin to a rugby lineout - was coming sooner rather than later.
"I knew it was probably going to happen, so it came as no surprise to me," Jones said. "I knew it was in [the Mystics'] thinking.
"There's been no official discussions or anything but there have been enquiries about would this be legal or wouldn't it be legal."
In fact, Jones said the Mystics were only one of a number of teams that had contacted the umpiring panel to assess the legality of such a move.
"I think there are other teams that have been interested as well but just haven't got to doing anything. I think there's been just interest in what was possible and what's not possible."
The move has been hailed as revolutionary in some quarters and against the spirit of the game in others, but one thing is for certain - it is perfectly within the laws of the sport and likely to stay that way.
"There's nothing in the rule book which prevents it - it's a legal intercept of the ball," Jones said. "I don't think there's any need [for a rule change] based on as much as we've seen to date. Let's not just react because someone does something different."
The 'Harrison hoist' was used to perfection during the Mystics' 49-45 win over the Vixens in Melbourne, with Jessica Moulds twice lifting her defensive partner to intercept the ball as the home side were making a late charge in the fourth quarter.
Vixens defender Bianca Chatfield said after the game both her club side and the Australian Diamonds had experimented with the technique in practice but with little success, while the strategy was also used against 206cm Sri Lankan shooter Tharjini Sivalingam at last year's world championships.
It calls to mind when the likes of Bill Russell began to play above the rim in the NBA in the 1950s, a style of play that forever changed the sport of basketball, but Jones didn't think a similar sea change was on the cards in netball.
"The reality is, it's not going to be happening in every game or every time the ball goes to the goalpost. It's going to be a technique that the right players with the right practise and skill might be able to use. And they'll use it judiciously, I think.
"I can't see that there's going to be any kind of rapid reaction against it, or any need for it."
Former Silver Ferns coach Yvonne Willering said today that shooters lifting each other was the next step, something Jones thought was theoretically possible but difficult in execution.
"Technically, there's nothing to stop it but I would question whether it's quite as suited for the attacking end of the court.
"There would be the question of timing - they've only got three seconds from when they receive the ball to put it though - and it would have to be pretty stable."
Whatever the potential of the technique, Jones saw the move as heralding exciting possibilities for the sport.
"It's exploring new grounds which were probably never intended when the rules were written. It has certainly added some interest and it was done with a lot of skill.
"I think we have to give credit to the Mystics, that they obviously practised it very well and Anna executed with her lifter extremely effectively."
- APNZ