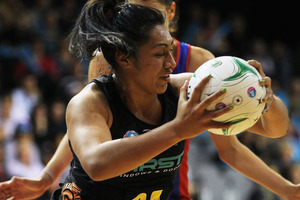 There will no divided loyalties for Waikato/Bay of Plenty Magic shooter Julianna Naoupu when she returns "home" for Saturday's trans-Tasman netball clash against the Canterbury Tactix on Saturday.
Ever-improving consistency with her shooting returns, general court play and decision-making has helped the naturally talented goal attack become an increasingly important cog in the Magic's resurgent form.
Christchurch has been an off-season retreat for some years now after Naoupu spent three years as an impact player for the Southern Steel before heading north to set up house with the Magic last year.
"Now I'm in my second year with Magic, I have started to get a much better feel for the goal attack role, in terms of my court play and ability to shoot," she said.
"This year has been a massive step up for me and my focus has been to get in there and claim the goal attack bib."
There have been some challenging times for the Silver Ferns squad member since arriving at the Magic, with Naoupu, 22, grappling with the finer points of goal attack.
Her previous experience in the position was limited, a sparse quarter here and there while predominantly playing goal shoot.
But she couldn't be in better company with old hands Irene van Dyk (goal shoot) and Laura Langman (centre) being perfect close-quarter tutors in assisting with the transition from talented playmaker to a more consistent all-round package.
"It's been a lot of learning but it has been a great help having Laura and Irene alongside me and [coach] Noeline [Taurua], who has a wealth of knowledge on the goal attack position," Naoupu said. "Taking everything on board from those guys has been a massive bonus for me.
"Now it's all about that ability to last the 60 minutes which is experience, fitness and being mentally switched on."
The Magic have followed up a disastrous four-straight losses to start their season with a three-game winning streak which has provided a much-needed tonic in the confidence stakes.
"We are now ticking more of the boxes of the things we want to accomplish," Naoupu said. "We still need to up the ante with our intensity every time we take the court but we feel we are on track and the feeling in the team is good."
Within the team goals, there are also personal goals and for Naoupu those are focused on playing out the 60 minutes at full physical and mental intensity.
This season she has proved a great foil for van Dyk, deflecting some of the heat away from the team's main strike weapon with an increasingly impressive return and poise under the hoop as the Magic look to plug the gap of previous seasons in fielding a consistently reliable second shooter.
There is some way to go but sitting on a mid-70 per cent success rate, Naoupu is adding her bit to a new-look attack line which also includes rookie Australian wing attack Khao Watts, who originally had probably been destined more as a wing defence/centre.
"The whole attack unit is starting to work in well together," Naoupu said. "We started off a bit hesitant but I guess with these last couple of wins we are now finding much more connection."
The Magic notched their first win of the season against the Tactix three weeks ago but will be on their guard against the gritty southerners, who proved a hard team to put away.
"They came back at us the first time we played them and being on home turf, they will really try to stamp their mark. It's a challenge we're looking forward to," Naoupu said.

- APNZ