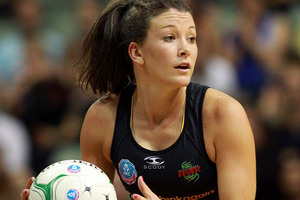 Steel 53
Fever 56
The Steel will head into the bye this week both exhausted and disappointed after they lost a physical match with the Fever 56-53 at the Edgar Centre this afternoon.
The Steel trailed for most of the game but outscored their opponents 19-12 in the third quarter to set up a thrilling finish.
The lead changed hands three times in the first 10 minutes of the final period but the Fever held their nerve when it counted and secured an important win.
Fever goal shoot Caitlin Bassett was one goal shy of 50 with 49 from 55 attempts in a colossal effort. Ultimately, her performance was the difference between the two sides.
The Steel coaching staff sprung a minor surprise with 19-year-old Storm Purvis starting ahead of former Silver Fern defender Sheryl Scanlan. That meant all three of last year's remaining squad members were on the bench.
In the early action Fever goal keep Susan Fuhrmann wore an elbow in the face from Jodi Brown and it set the tone for the match.
Every goal seemed to come at the expense of a new bruise. The visitors grabbed the initiative with their unforgiving defence and accurate shooting, taking a 16-11 lead into the break.
Caitlin Bassett was superb with 13 goals from 14 attempts and was getting the better of Purvis, who was giving up a 6cm height advantage.
The match became increasingly combative in the second spell. The Fever maintained their edge through some speedy recovery work from wing attack Verity Simmons, who hauled in a stray pass heading for the sideline and made some fine passes, and Bassett who was moving into gaps superbly.
The 28-22 halftime lead was far from unassailable but the Fever seemed to be getting the rub of the green. Catherine Cox lobbed in a pass which went horribly astray but rebounded off the hoop and Bassett was on hand to scoop it up.
It was one of those moments which helped create an impression it was not going to be the Steel's day.
But the Steel emerged from the break with more resolve and turned the six-goal deficit into a one-goal lead with 15 minutes remaining. Donna Wilkins kept fighting in the way she always does and drilled nine goals from nine attempts and Brown was close to faultless with 10 from 12 attempts.
A crowd of about 2200 suddenly found their voice but the Fever had the final say.
Steel 53 (Donna Wilkins 27/31 Jodi Brown 26/34- Fever 56 (Caitlin Bassett 49 from 55, Catherine Cox 7/12). 11-15, 22-28 41-40