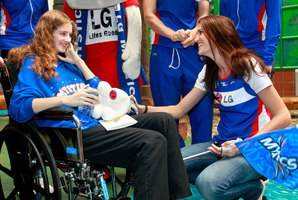 She has been a gold member of the Northern Mystics for four years, but until this week, Rhiannon Miller was too shy to ask the players for an autograph.
But the 17-year-old finally worked up the courage on Thursday when several members of the Auckland team, including Silver Ferns Anna Scarlett and Maria Tutaia, stopped by the Starship hospital to surprise Rhiannon, who is recovering from spinal surgery.
It helps that the Mystics think Rhiannon is pretty special herself.
Her mother, Christina Miller, organised the surprise to try to cheer up her netball-mad daughter, who suffers from a congenital spinal condition called idiopathic scoliosis.
"Rhiannon was having a really bad day and was feeling a bit down, so I called the Mystics to see if anybody could call in and say hello," said Mrs Miller.
The Mystics went one better, presenting Rhiannon with the honour of being ball-deliverer in an upcoming transtasman league game, where she and her family will also receive VIP tickets and sideline seats.
Although still feeling ill from the effects of her surgery, Rhiannon was clearly delighted by the gift.
"It was a bit overwhelming for her. I think she was concentrating on not passing out, but we managed to get a smile out of her so that was cool," said Scarlett.
Rhiannon has been a netball fan since the age of 2. Her mother said, when watching a Silver Ferns game on television, Rhiannon pointed at the screen and announced "I want to be one of them". She had a goal of being a Silver Fern by the time she was 16, but her condition meant she had to put her plans on hold.
At 7, Rhiannon began complaining of having a sore back, at which point it was discovered she had curvature of the spine, and she has been in and out of the Starship unit ever since.
But it is hoped the surgery earlier this month to fuse her spine would put her dream of playing for the Silver Ferns back on track. "She said her goal now is to make the team as soon as possible," said Mrs Miller.
Despite her debilitating condition, Rhiannon, who is home-schooled, plays club netball for the Takanini senior premier team and made sure her surgery was scheduled around the netball season. The young goal attack was even playing socially up until the day before her March 7 surgery.
"She plays as much as possible - she says it helps with the pain. I think because she enjoys herself so much when she is out there and the adrenalin is going she doesn't notice the pain as much," said Mrs Miller.
Scarlett, who is Barfoot & Thompson's Starship ambassador, regularly visits the hospital's child and family unit, where she often gets her arm twisted to take the kids on in a game of volleyball. "It can be really sad, but also it's really inspiring to see how kids deal with the challenges that they're going through. So it's neat to experience that," said Scarlett.
The ANZ Championship starts next weekend, with the Mystics taking on the Central Pulse in the opening round.