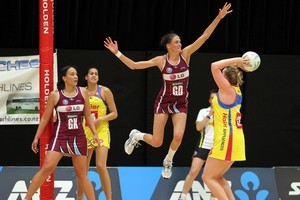 It's ANZ Championship netball but not as we know it. Teams playing three games in a single day, the Mystics being mistaken for the Firebirds, the Pulse outshining everyone - well at least in terms of their uniform, players taking siestas in the corridors, the return of a wily old fox, a quantity of positional switches that would make Winston Peters proud and occasional complaints of player exhaustion.
The second day of the ANZ Championship netball tournament in Tauranga had it all. Fans certainly couldn't complain about value for money, with 13 matches being played yesterday from 9am to 10:30pm. Some teams had it particularly tough, with the Melbourne Vixens playing games at 12.30pm, 4pm and 8.30pm.
"It's just too much," says Vixens coach Julie Hoornweg. "Sure we are using our bench, but you need to look after the players. The tournament is great but there will need to be some changes."
Four of the five Australian teams along with the Tactix and Pulse faced triples yesterday and some members of the defending champion Firebirds grabbed a quick nap on the floor upstairs in the TECT arena between matches.
But overall players and coaches were positive about the tournament, the first time all 10 teams have come together in one venue since 2008.
"I was quite hesitant about it because of the load," said Mystics coach Debbie Fuller. "I thought it was unrealistic in such a short time. However, I've changed my view. It brings back the old tournament nature we used to have and it is great."
Fuller had good reasons to be positive. The Mystics, wearing their alternative maroon uniform which has a suspicious resemblance to the Firebirds, smashed the Thunderbirds 50-32 before trumping the Pulse 49-42.
Games have a definite trial feel as coaches work combinations, but the Mystics stood out yesterday.
"They are the pick of the New Zealand teams," said Thunderbirds and Australian defender Sharni Layton, "It seems like they have gone up a notch from last year."
"To win is always really nice, but these games are also about knowing what kind of power you have on the bench - you can't afford to do that during the season," said Latu Layton. "To build competition within the team is always fantastic. We surprised ourselves last year making it that far and we want to have that feeling again"
"For us this weekend is about eliminating possible lineups," explained Fuller. "We want to know who plays well against a tight marking Aussie team; who works better against a looser Kiwi style. It is a huge information gathering exercise for everybody."
The Pulse were keenly watched and hard to miss, resplendent in their almost fluorescent new yellow uniforms.
"Robyn [Broughton] has made a great impression," says shooter Caitlin Thwaites, "she is brilliant at bringing a team together and we have a lot of promise."
"This team has a lot of talent," says new recruit Joline Henry, "they have lots of flair but we also need to minimise turnovers. It is Robyn's challenge to balance both."
The other major talking point was the West Coast Fever, now guided by Norma Plummer. They took down the Steel (40-31) and almost beat the Firebirds, with Romelda Aiken scoring on the hooter to salvage a 36-36 draw.
"I've got some good young kids and we will turn heads this year," said Plummer, whose recruitment of Catherine Cox already looks a masterstroke. "The first half of the season won't always be easy but watch us come home strong."
Coaches took the chance to use their whole benches, and even tried novel experiments, with gun Australian and Vixens defender Julie Corletto being used at centre for a period against the Mystics.
Today is finals day, with full pool crossovers based on group play rankings. The grand final is scheduled for 11.20am.
The Vixens will play the undefeated Firebirds in today's final, with a classic match up between the Magic and Mystics to decide third place.