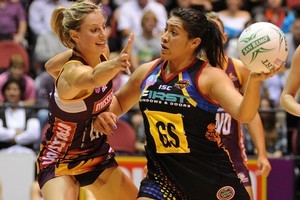 Silver Ferns wannabe Julianna Naoupu is caught between the proverbial rock and hard place, otherwise known as national netball coach Wai Taumaunu and physio Sharon Kearney.
Over the past week, Taumaunu has put a squad of 16 players through their paces in Auckland, her first full camp since succeeding Ruth Aitken in October. It's a chance for her to stamp a personal mark on the four-year build-up towards the next world championships.
Naoupu is the only member of that group who hasn't yet worn the Ferns bib, so probably has more to gain from this gathering than anyone else. But at 21, the Waikato Magic goal shoot is already nursing dodgy knees that ruled her out of consideration over the latter stages of last year. Now desperate to impress the new coach, Naoupu must also balance that against what her body and team medical staff are telling her.
"Everything I do is monitored," she sighs. "I don't want to be too precious that I can't do things, but Shaz is onto it and when she says to rest, I have to listen. It's tough knowing you can go further, but [you] also wonder in the back of your mind whether you should push it."
Luckily, Taumaunu recognises the benefits of being patient with her charge, who made huge strides during the 2011 ANZ Championship. After three years of limited court time with the Southern Steel, Naoupu was promoted straight into the Magic starting line-up alongside veteran international Irene Van Dyk, slotting 230 goals from 297 attempts (77.4 per cent).
While the opportunity undoubtedly thrust her into national team reckoning, it also took its toll on a physique unused to the workload.
"We're easing her back into the programme," says Taumaunu. "Juls has made good strides in her recovery, but we have to be mindful of the franchise season. In terms of Silver Ferns selection, she needs a good ANZ competition, so those two elements are not mutually exclusive. We're looking after her. She came into camp ready and available to play, we're just mindful of how much."
After five years in the national under-21 ranks, Naoupu has grown used to bumping bodies with the game's elite and doesn't have to look far for her inspiration.
"Irene's incredible and definitely someone I aspire to be like," she says. "Her personality on court is just like it is off the court - cruisey, but she knows when the pressure is on and when you have to nail stuff. She is also one of the fittest girls in the Ferns. She just keeps going like the Energiser bunny and when the young ones see that, we know we're half her age and have to keep going."
The opening days of the two-week camp has been a chance for players to find their feet again after the Christmas/New Year break, while also establishing some benchmarks for the programme moving forward. As well as her senior pros, Taumaunu has eight up-and-comers soaking up the environment for when their time arrives to step up.
Next week promises to be somewhat more intense, though, as the selectors arrive and begin assessing how players are responding to the new regime.
"It's early days and the quality has been a little variable at times, but they're trying very hard in all the tasks we've set them," says Taumaunu. "It's been very enjoyable - a good opportunity to map out the next four years, and set some expectations and tone.
"We have been collecting lots of information through GPS tracking and heart-rate monitors, and working hard to establish a culture for this group. I'm probably a little more directive in terms of style, but at this point, there's perhaps not a great deal of difference to what they're used to."