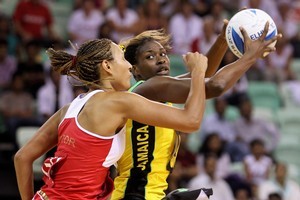 Statistically speaking, there are 16 possible winners of next week's netball world championships.
You can get out your Vivid and put a solid black line through 12 of those challengers right now.
Yes, it hardly speaks volumes for the state of the international game that only four sides are capable of being crowned world champions. But the good news is, the competition among the top four is more fierce than ever.
England and Jamaica are now considered genuine title contenders in their own right. They have improved markedly over the past four years, with each country now pouring more cash than ever before into their high performance programmes.
So while there is a sense that the semifinals are predetermined - the Silver Ferns will meet England, while Australia will take on Jamaica - what will happen from there is anyone's guess.
New Zealand
Current world ranking: 1
Placing at 2007 world champs: 2
Star players: Casey Williams, Temepara George, Irene van Dyk
Wildcard: Anna Scarlett
For arguably the first time in 58 years, the Silver Ferns head to the world championships ever so slight favourites.
They are number one in the world rankings, the Commonwealth Games champions, they've had the most stability in their programme over the past 18 months, and their main rivals are all missing key players due to injury and, in the case of Jamaica, suspension.
But favourites status means little at a world tournament, where the condensed nature of the draw creates a whole new set of challenges and leaves little room for error.
The downside of heading into the championships with a settled line is that stability can also mean predictability. There is no chance that the Ferns will be able to sneak up on their opposition - their game plan and main combinations are out there for all to see, and have been for some time.
Coach Ruth Aitken believes after last month's drawn series against Australia her side still have some tricks left for the world championships, but ultimately "it's not so much about having secrets, it's about the execution of the game plan".
The Ferns' depth in the attacking end of the court remains a key concern, and they will be working hard over the early days of the tournament to further develop a range of options. But they can feel confident with the form their frontliners are showing.
Veteran midcourter Temepara George is playing some of the best netball of her career, while super shooter Maria Tutaia has emerged as a star in her own right, complementing the evergreen Irene van Dyk - the most accurate shooter in world netball.
The Ferns' strength lies in their defensive end, which is superbly led by captain Casey Williams. Anna Scarlett, Leana de Bruin and Katrina Grant are all worthy of starting alongside Williams, but with each offering a different set of strengths, the Ferns' management will likely take a horses for courses type approach.
AUSTRALIA
Current world ranking: 2
Placing at 2007 world champs: 1
Star players: Natalie von Bertouch, Julie Corletto, Catherine Cox
Wildcard: Natalie Medhurst
Australian coach Norma Plummer has taken a punt and selected a vastly new-look side for the world championships, adding a smattering of youth to the side that suffered a heartbreaking double overtime loss in that epic final in Delhi last year.
With five changes to the test line-up from last year, Australia as a group are very much an unknown quantity.
Most of the new faces earned selection on the back of stand-out transtasman league seasons, but a couple of changes were brought about as a result of injury - the most notable being the loss of feisty captain Sharelle McMahon with a torn Achilles.
It was undoubtedly a big blow for the Australians. An inspirational figure, McMahon's influence will be severely missed on and off the court. But as was seen in their two outings against New Zealand last month, it doesn't make the Diamonds any less competitive.
The Australians still have plenty of experience in the likes of Natalie von Bertouch, whose game seems to have lifted after assuming the captaincy role, Catherine Cox, Mo'onia Gerrard and Julie Corletto.
And, like the Kiwis they have options galore in the defensive end giving Plummer the ability to mix up her lines to ensure the opposition attack can't get comfortable.
The Diamonds have also probably had one of the most comprehensive build-ups to the tournament. After last month's tests the team had a four-day camp in Hong Kong before flying in to Singapore at the beginning of the week.
ENGLAND
Current world ranking: 3
Placing at 2007 world champs: 4
Star players: Geva Mentor, Sonia Mkoloma, Pamela Cookey
Wildcard: Stacey Francis
The English netball team have been building for a while now. Over the past four years they have pushed Australia and New Zealand hard and even pulled off a couple of big upsets. But they have yet to appear in a final of a major tournament and really challenge the dominance of the top two sides.
Their coach, former Australian international Sue Hawkins, thinks she has found the missing key ingredient - fitness.
"It's always been that we've done three quarters and then blown one quarter. So that's been the main focus is to get those fitness levels up," she said. "We're extremely fit at the moment, once your fitness level gets up there you are able to sustain your skill level for much longer and hopefully that'll work for us."
Like the Silver Ferns and Australia, England can also boast to having an exceptionally deep defensive end. Over the past 12 months young defender Stacey Francis has emerged as a world class defender alongside long-time pairing Geva Mentor and Sonia Mkoloma.
But the area that has traditionally let England down is their shooting circle. Louisa Brownfield and Jo Harten have the tendency to go off the boil when the pressure comes on, and the pair will need to step up in this tournament. They do have a strong support shooter in wily attacker Pamela Cookey.
In the absence of McMahon and Jamaica's Simone Forbes, Cookey will be one of the most exciting goal attacks at the tournament. She plays the game at speed and is a key playmaker for the English side.
Hawkins, a former shooter, said she has also been doing a lot of work with her shooting end to get their accuracy and confidence up.
JAMAICA
Current world ranking: 4
Placing at 2007 world champs: 3
Star players: Romelda Aiken, Nadine Bryan, Althea Byfield
Wildcard: Jhanielle Fowler
Be wary of the Jamaicans. That's one thing Ferns coach Ruth Aitken and her long-time rival Norma Plummer are united on.
The Sunshine Girls haven't had the smoothest path to the world championships. They lost their captain and key playmaker Simone Forbes, who is serving out a three-month suspension after testing positive for a banned substance.
The substance is also found in the drugs Forbes' was taking for fertility treatment, but in an age of stringent protocols, where athletes must inform the testers if they've had so much as a Panadol, there was little chance of recourse.
They have also had a late change to the coaching line-up, with Connie Francis curiously ousted just months out from the tournament, and Oberon Pitterson appointed to the position.
Their key threats lie in their shooting end, led by 1.96m shooter Romelda Aiken, who was virtually unstoppable for the ANZ Championship-winning Queensland Firebirds this season.
If for some reason Aiken isn't firing, no matter. Jamaica have the option of bringing on an even bigger shooter - 1.98m Jhanielle Fowler.
Jamaica have also enlisted the help of former Australian coach Jill McIntosh, who has been working with the team for the past 16 weeks.
McIntosh's influence on the team was apparent in their last international series back in April, when they beat England 2-1, with many observers noting a more disciplined and skilful performance from the Jamaican side.