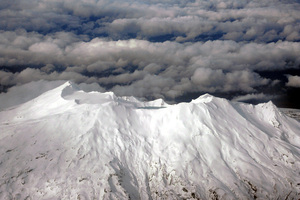 Ruapehu's unrest continues, despite temperatures deep beneath the crater lake declining.
GNS Science says monitoring of the Ruapehu crater lake has shown temperatures at depth have started to decline but the crater lake temperature remains static at 22-25C.
This indicates a partial blockage between the deeper hydrothermal system and the crater lake remains.
Because of this blockage and the resulting potential to increase pressure at depth over time, Ruapehu remained in an elevated level of unrest, GNS Science volcanologist Brad Scott said.
"Our analysis is still showing high temperatures exist beneath the lake, but these have decreased in the last month," Mr Scott said.
"We think there is still a partial blockage between the deep and shallow systems as the lake temperature has remained steady. The relatively low temperature of the crater lake, since March 2012, is one of the longest periods of low lake temperature we have recorded."
Mr Scott said if the sealed zone failed suddenly an eruption could occur, probably with little or no warning. If it failed more gradually the pressure released would be more gradual and the likelihood of an eruption would be lower.
The Volcano Alert Level remains at 1 and the Aviation Colour Code at Yellow.
- nzherald.co.nz