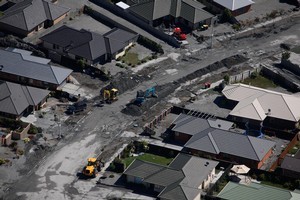 Thousands of new sections are being suggested for red-zone refugees to build on, but residents are questioning how many of the displaced will be able to afford to build on them.
About 5000 homeowners in the residential "red zones" are to have their land bought off them at rateable value by the Government because of earthquake damage, while about 10,000 others in the "orange zones" must wait to see if they will be in the same boat.
Christchurch Mayor Bob Parker has boasted that there is capacity for up to an additional 11,000 sections in the city for people to rebuild on, and a further 6000 are in the planning.
Among those looking for new homes will be residents of the riverside suburb of Bexley, which is being wiped out because of quake damage.
Barry Tutt, of the Bexley Residents' Association, said people had been attracted to the suburb because it was close to the water and "moderately priced".
"I don't think they can replicate that, and that will be the issue," he said. "The over-riding criteria will be economic. What can you afford? What you want and what you get may not be the same thing."
Sections on offer in new subdvisions might well be out of reach, unless there was a developer who was a "white knight", Mr Tutt said.
Then there would be the challenge of finding a builder in a city with huge demands for rebuilding, and being close to work and schools, he said.
"There's a whole raft of icebergs out there and we are just setting sail."
Christchurch East MP Lianne Dalziel said she was concerned displaced residents would end up out of pocket. Yesterday, she heard of a homeowner whose land would be paid out at $170,000 when the nearest safe section was worth $220,000.
"The Government still needs to do a little bit more thinking about what the options are."
Prestons Road Ltd, a 203-hectare development in northern Christchurch with the potential to house up to 8000 people in 2700 homes, has already been contacted by entire culs-de-sac of residents in eastern Christchurch.
Chairman David Schwartfeger said that while the financial situations of people in the red zones would vary greatly, he felt confident the development could cater to a wide range of buyers, including those in need of high-density housing.
Mayor Parker said not everyone moving from their homes would be looking to buy a section and build. For many, buying an established property would be the more attractive option.