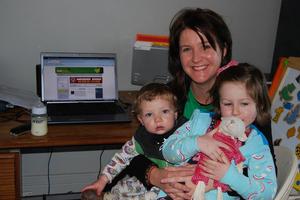 Name: Bridget Velvin.
Occupation: Director, Waitrade, with husband Stuart.
Age: 35.
Working hours: 8.30pm onwards.
Pay scale: Business is still in development phase.
Qualifications: B For Sc (hons) and B Com.
Describe your job.
I manage www.waitrade.co.nz, an internet trading site established just for Waiheke Island locals. The management of the site relates mostly to future development, responding to website queries, checking the integrity of listings and that people adhere to the trading rules. The development role is about improving the functionality for users and attracting local businesses to advertise on Waitrade.
What is your background?
I have an Honours Forestry degree which set me up with a job working for Carter Holt Harvey in different roles throughout the North Island. My husband Stuart and I moved to Waiheke in 2002.
The transition to island life was easy for me as I am third generation on the island and still have my family here.
Stuart established Pukeko Signs and Graphics shortly after arriving and still runs the business. I completed a Real Estate Sales Person certificate and worked for three years during the peak of the market. I then decided to set up a tree consulting company - 1, 2 Tree - which I manage from a small home office (in the toy room) along with Waitrade.
How did the website come about?
Waitrade is where Waiheke locals can buy and sell stuff. You must live here and/or own property on the island. Its strength relies on the fact we are an island separated by water which makes the cost of freight to the mainland prohibitive for many household items. The secondhand shop Howard's End closed and we thought Waiheke Island needed another option for selling secondhand goods.
We employed Eric Bergquist from Behind the Web to develop the website and he continues to provide technical support and development.
The great thing about a local trading site is that you can just pick up items you have purchased. I have sold loads of things. It is so much easier than packaging something up and then getting to the post shop - especially when you have two kids.
Is Waitrade Waiheke's equivalent of Trade Me?
Waitrade is always going to be limited by the size of the trading community - Waiheke's population. We offer people another option for selling big things like fridges, beds, baby furniture, building materials and those items where the cost of postage outweighs their value. We provide free promotional advertising to community-based events and we are currently offering free classified advertisements.
What are your plans for the website?
We plan to continue adding extra auction functionality to make Waitrade more user-friendly. We are working on being able to edit auctions and also the ability to contact the highest bidder from unsuccessful auctions. We have had great feedback from our members with suggestions on the direction we should head. We are exploring being associated with a community organisation to assist with fund raising. Another idea is to advertise specials or coupons local businesses are offering.
What are the most popular objects listed on the site?
Babies' clothes and accessories, household items, and washing machines and dryers. The most unusual item could be my "Wanted" ad for a new cuddly "Basil" for my daughter. Anyone know where we can buy another?
Why is the job important?
It gives people options.
What are the job's main challenges?
Balancing our home life with our businesses. We have two young children - Mya, 3, and Hugo, 1.
Stu also hires out shipping containers on the island and is busy with his signs and graphics business so often works late and in the weekends.
I generally work on Waitrade in the evenings. So home life is busy.
Is Waiheke an internet-savvy place?
Waiheke is very internet-savvy - we have around 800 members. Broadband definitely makes using Waitrade and most other websites easier.
We have modified how photos are uploaded to improve the speed of the site for dial-up users.
The best part of your job?
The best part is having an idea and seeing it in action. I love that this is a business I can run from home and it is working all day every day - even when I am not.
And the worst part?
Not having enough time or money to work on all our ideas.
Your strengths?
My main strength is my commitment to Waitrade. I have excellent administration and analytical skills. Stu has a marketing background so he manages the advertising and does all the display advertisements.
How do you juggle working with the demands of being a mum?
Mya is at afternoon kindergarten and both children are cared for on Monday and Friday. I try not to do work while I am with my children - unless it's just something quick or unavoidable. My children are usually in bed by 6.30pm. I definitely do not have a super-clean house and the washing is frequently behind.
Advice to those interested in a similar role?
If you have a business idea, talk to friends and family - do research and if it looks good then give it a go.