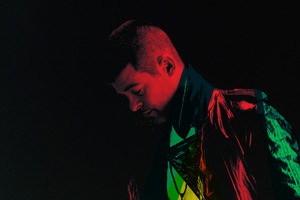 Leaving aside the puzzle over whether or not any of these lyrical sentiments have a shred of authenticity to them, the music doesn't light the world on fire.
It always feels a little horrible to suggest cynical or sceptical views about the relationship breakdown of anyone else, even celebrities, but it would seem disingenuous not to mention the niggling thought that Robin Thicke's separation with his wife of eight years, Paula Patton, seems very well-timed for this album release.
They separated in February, and five months later he's releasing a complete new album dedicated to her, pleading for her to come back.
Anyone with much experience of the music business knows that even if Thicke wrote and recorded the songs in very quick-smart fashion, it would be rare for a major label to turn an album around for release so quickly.
Even if we give them the benefit of the doubt, and assume that the break-up was coincidental -- maybe Thicke was already in the doghouse and started writing this album before they separated, or maybe the record label simply saw a fortuitous opportunity timing-wise and jumped on it -- it's hard not to feel like it's a bit of a manipulative marketing exercise.
Of course Thicke is by no means the first man to base a whole album around such an event -- Marvin Gaye's Here, My Dear is a bitter album about his divorce from Anna Gordy, Coldplay's Ghost Stories earlier this year was a concept album about heartbreak after Chris Martin's uncoupling from Gwyneth Paltrow, and even Jack White, and Dan Auerbach (The Black Keys) have had some choice words for their exes on their respective 2014 releases.
But none of them have jumped to give endless interviews and performances pleading for another chance from their lady, or seem to be directly using their relationship troubles to sell, sell, sell -- and that's perhaps what leaves a slightly bad taste here.
There's a long history of real life heartbreak making great songs and albums, but it's hard to feel that Thicke's genuinely sorry or heartbroken when he mixes songs like Something Bad ("tonight I'm all yours but in the morning I'm all mine"), which celebrate his bad behaviour, with apologetic acknowledgments of his downfalls on Too Little Too Late, or Get Her Back. Even leaving aside the puzzle over whether or not any of these lyrical sentiments have a shred of authenticity to them, the music doesn't light the world on fire either.
Thicke knows how to do a sweet falsetto croon, and it's nice to hear his voice to the fore on a couple of quiet piano ballads, but there's nothing that matches the production ingenuity or writing of Blurred Lines.
Instead, he seems happy to play the poor man's version of greats like James Brown (Living In New York City), Van Morrison (The Opposite of Me), or Ray Charles (Lock The Door).
There's some easy Latin grooves, even some tastefully pared-back moments that help create intimacy, but really Paula is a return to the albums Thicke was making before Blurred Lines -- RnB-lite that's solid but not special.
And jumbling it up with his real life troubles, turning it into tabloid fodder doesn't make it any better.

Verdict: Blurring the lines between tabloid fodder and love songs
Click here to buy Paula by Robin Thicke.
- TimeOut