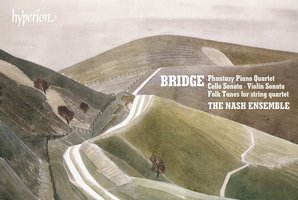 Frank Bridge: Phantasy Piano Quartet (Hyperion)
Stars: 4/5
Verdict: English composer is revealed as much more than just Benjamin Britten's teacher.
The composer's 1917 Cello Sonata is a bewitching taste of the bigger work to come. For some, Frank Bridge (1879-1941) has come to be known as Benjamin Britten's teacher. He was a key influence, enjoying a very special tribute in his pupil's 1937 Variations on a Theme of Frank Bridge.
However, Bridge, a violist who studied at the Royal College of Music in London at the turn of the 20th century, was much more than a footnote in his illustrious student's career.
Musically, his was a relatively conservative voice. In 1925, English composer Joseph Holbrooke praised Bridge for not having "delved, or procrastinated in his work because of the latest chords found by the pushing adventurers from abroad".
Nor was he drawn to the mix of English folk-song and Tudor stylings that fired Vaughan Williams.
A splendid CD from the Nash Ensemble investigates Bridge's chamber music, ranging from a 1908 arrangement of Danny Boy under its more respectable name of The Londonderry Air to his 1932 Violin Sonata.
The Irish folk-song and three other arrangements for string quartet, including a vivacious Cherry Ripe, are clever and perhaps a little twee for those with more serious tastes.
The opening Phantasy Piano Quartet of 1910 is weightier; an intense, one-movement work, brooding in the shadow of Brahms, with sinuously seductive chromaticism.
One could not imagine it receiving a more potent performance than this - understandable when the string players alongside pianist Ian Brown include violist Lawrence Power and cellist Paul Watkins.
Many cellists revere Bridge's 1930 Oration, his so-described elegiac concerto. In the hands of Watkins and Brown, the composer's 1917 Cello Sonata is a bewitching taste of the bigger work to come.
The exhilaratingly flexible textures of its Allegro ben moderato, with every nuance caught by the Hyperion team, are followed by an Adagio, with moments of rare, still beauty.
The 1932 Violin Sonata does find Bridge picking up on the chords of pushing European adventurers - from back in the early years of the century.
Much here sounds like Alban Berg before he took up 12-tone writing, yet melody still rules and its taut construction is there for all to hear.
Norwegian violinist Marianne Thorsen is good, in tandem with an assertive Brown, although there is sometimes a lessening of intensity in climactic moments.