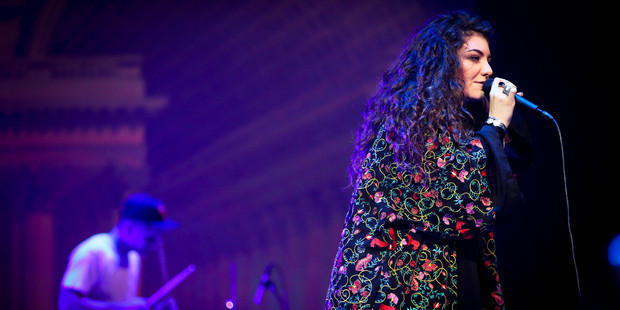 Wow. Believe the hype. And talk it up, like, yeah. The girl can sing, she oozes confidence and poise. She sweeps her magnificent mane of hair back as she struts across the vast Vector Arena stage.
The new iHeartRadio put on the free concert to promote its new online radio service - and the 5000-plus crowd was delighted.
"I'm lost for words," she told them. "But I guess it's not that hard to sell out a free concert."
After watching her charm America, her legions of hometown fans last night witnessed a dazzling arena debut from the North Shore schoolgirl.
Lorde's rich, sonorous voice filled the yawning chasms afforded her by the sparse musical arrangements. With just a drummer and keyboardist, and pre-recorded backing vocals, the 16-year-old switched effortlessly from soaring, epic vocal notes to a more staccato, sassy delivery.
Mystique is a priceless commodity for musicians and Lorde only gave just enough of herself to keep the crowd riveted.
Along with the recognisable Tennis Courts and The Love Club from her first EP, there's a stack of spellbinding new material that are instantly edgy, relevant and catchy. Songs seamlessly drifted into one another over the hour-long performance.
"It's warm," she told the crowd as she took off her kimono-like gown a third of the way through to reveal a black dress with see-through panels. "So happy to be here right now Auckland. This is ridiculous. Thank you."
Stratospheric barely describes the trajectory Lorde's music career has taken since her runaway hit Royals emerged this year.
Since then she's been zealously cocooned by a record company fully aware of her potential. No images or video were released of Lorde for months after her songs were being sung by teenagers and their parents. She performed a handful of small domestic shows. Then came a last-minute request to fill in at the Splendour Festival in Australia.
Then last week Royals hit the big time when it reached the American Billboard Top Ten.
She has already garnered celebrity endorsement from the likes of Perez Hilton. And soon she'll be heading back to the US to promote her upcoming album Pure Heroine.
Last night she gave a slick, assured and soulful performance.
It seems at last it seems New Zealand has an artist capable of conquering the musical world.