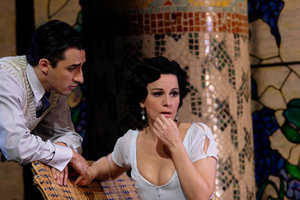 I first saw the legendary soprano Angela Gheorghiu in the 2011 film version of Tosca. She commanded the stage, as only a diva can.
Today, I expect her to flounce into the Savoy after keeping me waiting for hours. Instead, she arrives, practically on time, wearing a baby pink jacket. Her T-shirt bears the logo, "This girl is cute". That logo, and the pastel pink clothes are at odds with her prima donna persona; so is her manner: she is piano, almost pianissimo.
Gheorghiu's reservation may be down to the reviews she received recently that her Magda in La Rondine at Covent Garden, had been "cautious".
I suspect there is a personal reason as well. Covent Garden was where, in 1996, she met Roberto Alagna. She was a Romanian, married to an engineer, and just getting a taste for super-stardom; Alagna was a tenor with a dazzling career and a wife and daughter. They sang in La Boheme and promptly fell in love.
Their tempestuous relationship and later marriage were PR gold. Then suddenly, last January, Gheorghiu announced the couple were splitting and, last month, she accused Alagna of domestic violence.
"Last November was the blackest time of my life. I had finished singing the first act [of Tosca] at the San Francisco Opera when I couldn't go on. I had to be rushed into hospital."
The audience was told Gheorghiu had intestinal flu.
"I can only say that love is like a disease," she says. "I am stupid in love. But I couldn't be Angela if I weren't romantic."
I put it to her that Alagna is contesting his ex-wife's allegations and suddenly I glimpse the fiery prima donna: "I never lie. I am incapable of lying."
She refers to herself as "Angela", as if in doing so she can draw a distinction between the woman and the performer. A distinction, she tells me, no longer possible: "It's sad, and I blame myself: from the moment I first set foot on stage, everyone talked about my looks as well as my voice. Before me, an opera singer did not need to be beautiful. The audience now listens with their eyes. It shouldn't be like this, but ..."
Gheorghiu has been performing since she was 6. "From the start I had a feeling I had no choice: by singing I was following my destiny. I loved it. All of it. I have been a celebrity since I was a little girl. There are people who have something instantly attractive. Sometimes we call it charisma, sometimes, magnetism. It's always the same effect, though: everyone wants to know everything about them."
Her reputation, I say carefully, would also suggest that she demands a lot. Gheorghiu will have none of it: "Is it too much that I should ask for a lot back? They say Angela is cancelling this and that. Everyone else does it, but the press is only interested when I do it."
The former child prodigy "lives out of a suitcase", but feels at home in Britain. She has no children, but has adopted her niece.
"I don't want to think about the future." Suddenly, the real Angela Gheorghiu stands alone, vulnerable, lovable - and maybe even mortal.
•Angela Gheorghiu Sings Verdi is out now.