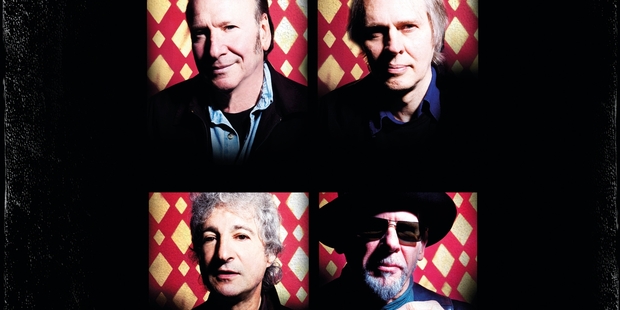 Their songs have been here before - Blondie encored with See No Evil when they played here in 2003; Lucinda Williams' backing band warmed up with Marquee Moon at the Auckland Town Hall.
But Television, arguably the greatest, most influential guitar band to spring from New York's proto-punk/New Wave era, have never been here to play.
There has long been good reason for that. Mainly, that they split up after one classic debut album, 1977's Marquee Moon and its 1978 follow-up Adventure. Guitarist-singer Tom Verlaine (pictured top right) took his distinctive playing and singing style into a run of solo albums and occasional soundtracks.
But with the band's lasting influence generated by Marquee Moon, Television reformed - initially in 1992 to record a third self-titled album, and then in then again in the early noughties for occasional touring and festival duties.
And now Television is, at long last, coming to Auckland for a Powerstation show on Thursday, October 24.
The band coming here features three-quarters of their original line-up with founding members Verlaine, bassist Fred Smith, and drummer Billy Ficca joined by guitarist Jimmy Rip, who replaced Richard Lloyd who departed the group in 2007.
The guitars of Verlaine and Lloyd were Television's defining sound, playing extended angular interwoven clean-sounding solos with a technical proficiency that was out of step in an era of punk amateurism and fuzztone.
That approach continued to echo through a couple of rock generations - U2's The Edge cited Verlaine as an influence for "tearing up the rule book", while the likes of Wilco and the Strokes have often had Television comparisons thrown their way by rock critics.
All of which is why some of us will be very happy to see Television for the first time come October.
Even better, they are being supported by Ed Kuepper, Aussie alt-music figurehead who was a member of Oz punk pioneers the Saints and the Laughing Clowns before starting a prolific run of fine solo albums during the 1990s into the noughties, and doing occasional duties as a Bad Seed backing Nick Cave.
Tickets for the show go on sale on August 6.
Meanwhile, another artist who has never performed in New Zealand before, TI, is joining the first ever Episode One festival, along with Akon and French Montana.
Billed as an "urban music show," the concert is being held at Vector Arena on October 9.
Tickets go on sale on August 8 through Ticketmaster.
Follow @nzherald_ent on Twitter for all the latest entertainment news.
- TimeOut