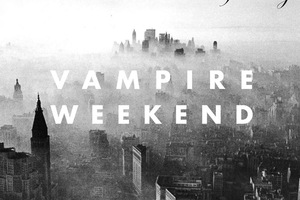 New York four-piece Vampire Weekend have never seemed lacking in inspiration or momentum. Their self-titled debut and 2010 follow-up, Contra, were chock-full of snappy, oddball pop hits that drew on melodies and rhythms from Africa to the Caribbean, and yet somehow seemed to fit with their urban, educated, self-assured New York image. They say this latest album is the "culmination of a trilogy", and indeed it's a beautifully overwhelming listen, which ranges even wider in its self-aware grab-bag of influence.The result is a grand, joyful, smart record that should silence any critics who claimed they were style over substance.
It's sometimes frenetic (the almost nonsensical but brilliant Finger Back); sometimes contemplative (Don't Lie) but, above all, it seems to be thematically concerned with an awareness of time passing and mortality, along with the search for vitality.
Musically, it's a love letter to New York's cultural melting pot. There are gospel piano chords accompanied by Nyabinghi drums (which sound entirely un-Rastafarian in this context) on Obvious Bicycle. There's a little Irish-inspired instrumentation on Unbelievers, hip-hop samples combined with harpsichord on Step, punk and rock'n'roll leanings on Diane Young, and their trademark Graceland-inspired rhythm section on Everlasting Arms.
But above all the musicological adventures, there's Ezra Koenig's sweet voice, which they take great delight in messing with, employing formant-shifting techniques and adding all sorts of different reverb, and yet leaving his heartfelt delivery intact.
Stars: 5/5
Verdict: A grand culmination of style and substance
Click here to buy Modern Vampires of the City by Vampire Weekend.
- TimeOut