Dixie Chick Natalie Maines has a new album, writes Scott Kara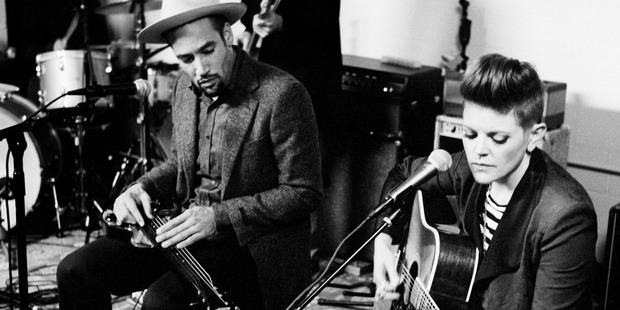 Natalie Maines will be forever known as the outspoken Dixie Chick. The one who got the country music superstars offside with their many devout fans in the Chicks' stronghold of the American South with her derogatory comments about George W. Bush in 2003.
Just before the war in Iraq was about to hit the fan and during a concert in London, Maines proclaimed: "Just so you know. We do not want this war ... and we're ashamed that the President of the United States is from Texas."
The Brits loved it, but the fallout, especially in their home state of Texas, was damaging, with boycotts on Dixie Chicks' albums and concerts, ritual CD burnings, and even death threats.
Ten years on - "I can't believe it's been 10 years," laughs Maines on the phone from her home in Los Angeles - the singer has no regrets. In typical Maines fashion, she comes out firing.
"I think if I did do anything differently it would be to completely ignore it.
I think we got used by the right-wing agenda, and there was a level of thinking that we could salvage things and explain ourselves. But looking back now there was nothing we could have done, the train was going full speed ahead and [we should have] let it all play out, it was just going to be what it would be."
Still, such was the band's following that they battled back and their 2006 album, Taking the Long Way, won five Grammys, including album of the year.
And with the Chicks going on hiatus in 2007, it's been a long time between records for Maines, which is why she's excited about the release of her debut solo album, Mother, next week.
"At first I was apprehensive about it," she says of going it alone.
"One of the aspects I like about being in the Chicks is strength in numbers, and you can succeed together and you can fail together, and you're not all by yourself.
"So there is more pressure being a solo artist but ultimately I have enjoyed having total creative control. To do what I want to do."
And it sure is different from the Dixie Chicks, with a harder, more bold musical approach coming through.
The title track is taken from her lovely, haunting version of Pink Floyd's Mother, from 1979 album The Wall. She's always loved the song, but after seeing Roger Waters do his Wall Live show "a light bulb went off. I had to do that song and I knew how we would do it and how it would sound."
The song first appeared on the soundtrack to the Peter Jackson-produced documentary film West of Memphis, about the West Memphis Three, the then-teenage boys convicted for the murders of three 8-year-olds in Arkansas in 1993. Like Jackson, Maines was heavily involved in the campaign for the trio's release (which happened in 2011) and met the director and his partner Fran Walsh in unusual circumstances.
"I met Peter when I was being sued by the stepfather of one of the little boys who was murdered. He was suing me for defamation of character for something I said online about the case.
"They came to my house. He offered to pay for my legal fees on that case but, fortunately, I ended up settling and I had insurance for that sort of thing.
"I loved meeting the two of them and talking about the case and having that shared passion for justice," she says.
Maines has another New Zealand connection - she co-wrote Silent House with Neil Finn, which appeared on a Dixie Chicks album and the 2007 Crowded House reunion record.
Her main collaborator on Mother is New Zealand's favourite US folk-bluesman, Ben Harper, who co-produced Maines' efforts to do something entirely different from the Dixie Chicks - though for much of the album there is no mistaking her voice.
"If a singer from a band is going to do a solo project I always get annoyed when the solo project sounds like they should have just had their band around," she laughs. "It sounds like they're doing something to take more money. So that's why this one is more in line with what I'm about musically, what I'm drawn to. This is me."
Most of the songs are covers because she didn't want the added pressure of writing songs, too, with standouts including a stomping, steely version of Silver Bell, written by folkie Americana musician Patty Griffin ("A song that's the furthest thing from what the Dixie Chicks might do"), and Harper's Vein In Vain ("He wrote that about the drug addicts he'd met when he was downtown at night skateboarding.").
And the most beautiful is album centrepiece Lover, You Should Have Come Over, by Jeff Buckley, which takes Maines back to a special time in her life - when she didn't have two children running around.
"It's a reminder of the first year I was with my husband Adrian [in 1999]. We woke up to that song every morning.
"The alarm was set to it. So that takes me back to a time when there was nowhere near the responsibility of life that there is now."
Who: Natalie Maines, the Dixie Chicks' singer, goes solo
Debut solo album: Mother, out May 10
- TimeOut